Deep Digging on the Family Farm
Donate Now
Issue 331

Mar/Apr 2022
Making Change
Reviews
Deep Digging on the Family Farm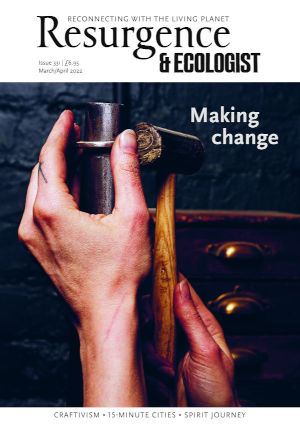 Cover: Rebecca Struther, watchmaker by Asia Werbel for John Smedley. www.strutherswatchmakers.co.uk
Sara Melendro listens to a story of emigration, exploitation and hope. Landed, a podcast by Farmerama Radio. farmerama.co
Every month, Farmerama delivers a great episode from the frontline of the regenerative food and farming movement. Packed with interesting stories, inspiring speakers and innovative ideas, the podcasts cover a wide range of topics in a series of pleasant and honest conversations that make for easy listening, letting us into the minds and hearts of the small-scale food and farming scene in the UK and beyond.

As a grower and activist, I find these podcasts a great resource full of valuable practical information as well as thoughtful reflections, positive energy and little nuggets of wisdom. Farmers, millers, herbalists, activists, growers, retailers, chefs and a whole range of actors from the food sovereignty movement all share their stories and hopes, and there is an overall sense of a can-do attitude that feels engaging and empowering. The podcasts are skilfully put together by the Farmerama team, who clearly have passion for their work and a direct connection to the grassroots of this movement.

Farmerama also runs occasional thematic series to look deeper into a topic. The latest, Landed, is a personal and political exploration of the past and future of family farming in Scotland, told by Col Gordon, a Scottish farmer's son who grew up on his family farm in the Highlands and who after a decade away comes back determined to turn his family farm into a model of sustainable regenerative farming, which he believes is the key to a more just and ecological world.

As Gordon starts to unravel the history of farming in the north of Scotland, he learns that the family farm that feels so fundamental to him is a relatively recent concept that was born out of a process of domestic colonisation known as the Highland Clearances. The land that had for centuries been held in common and collectively managed by the Gaels under the clan system was violently appropriated and turned into private property, and the people were forcibly removed. Digging deeper into this hidden history, Gordon uncovers how those same Gaels cleared from the land who emigrated to the New World participated in the exploitation and genocide of the Indigenous peoples there. Much of the money made from the enslaving of people overseas was used to purchase farmland in the Highlands, including potentially Gordon's own farm.

These findings are disturbing and make Gordon question his deep-rooted belief in the family farm as the centrepiece of a just and sustainable food system. He embarks on a search for other models to create the agro-ecological future he strives to be part of while repairing some of the damage caused by past and present exploitation, a future where landscapes are managed collectively for the benefit of everyone, and where food production works in harmony with Nature, looking after the environment, producing nutritious and affordable food for all, offering dignified and meaningful work for people, and repopulating the landscape.

In the fourth and last episode Gordon explores other ways of managing landscapes collectively, looking at old models such as crofting as well as some of the latest developments in shared ownership such as community buyouts, and also considering legislation and procurement as tools to help implement agro-ecology at a larger scale. This needs a deep transformation that goes beyond the family farm, and Gordon argues that change is starting to happen, but that the conversation needs to continue and it needs to include everyone. There is no final answer, but Landed asks many relevant and timely questions and encourages all of us to engage with these conversations to create landscapes that are sustainable and accessible for all.