A Tapestry of Life
Donate Now
Issue 332

May/Jun 2022
Power to the Peaceful
Welcome
A Tapestry of Life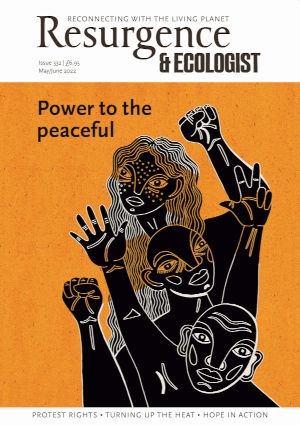 Cover: Rise Up by Sophie Bass sophiebassillustration.bigcartel.com
We need connection and empathy in these troubled times.
The world has changed since the March/April issue of Resurgence & Ecologist left the printing press. Now, as you read these words, another country lies in ruins and another generation is forced to experience the existential threat of nuclear war. As CND General Secretary Kate Hudson said, "there is no possibility whatsoever" that war will resolve the situation. "Only dialogue and openness to the concerns of others will make a difference."

It was with an air of surreality that we started mapping our 'peaceful protest' section in the May/June issue, planned as it had been months in advance to mark the erosion of civil liberties in the UK. It was also a reminder of our legacy and our role in these times of crisis. Resurgence was born out of the anti-nuclear movement of the 1960s, bringing with it a message of peace. Today the magazine is a kind of tapestry. The interwoven weft threads creating the picture are science, philosophy, wellbeing, economics and the arts; the warp threads, the foundation, are empathy and connection. By understanding how everything is linked and opening ourselves to the concerns of others, we can take a clear view of reality. This is the backing for what Joanna Macy and Chris Johnstone call Active Hope. The next stage is to identify what we hope for, and to take steps to move in that direction.

Woven throughout the tapestry in your hands is the theme of peaceful protest. In our Ecologist section, Brendan Montague interviews barrister David Renton about the implications of the Police, Crime, Sentencing and Courts Bill, which is currently going through the UK parliament, and Eve Livingston argues the role of trade unions in nonviolent environmental activism. In our themed section, Yasmin Dahnoun speaks with ecofeminist Vandana Shiva about how a group of 'tree-huggers' 60 years ago inspired India's recent nationwide farmers' protests, a movement "driven from love for the Earth and dignity and pride in their vocation of farming", Shiva says. In Wisdom & Wellbeing, Jane Goodall tells Satish Kumar that one of her greatest reasons for hope is young people.

We take a look at the toll protest can take on our bodies. Youth striker Helen shares the moving story of how her disordered eating became entangled with climate anxiety, and Emma Smart, a protester with Insulate Britain, writes about her hunger strike.

Caring can also come with an emotional cost. In our Feature Story, Charlie Jones and Dan Warrender write about how people in a caring role can nurture 'compassionate care' without being overwhelmed. "We know really that vulnerability, pain and ultimately death are part of our shared human experience," they write. "To embrace our humanity is to embrace our imperfections and vulnerabilities."

To celebrate connection, we introduce the first in our new series of essays, In the Company of Trees. In this issue, environmentalist Anita Roy and sound artist Jason Singh write about ancient yews.

This brings us back to the warp threads, connection and empathy, two powerful words that, as Kate Hudson said, will make a difference in these troubled times.