Power to the Peaceful
Issue 332 • May/June 2022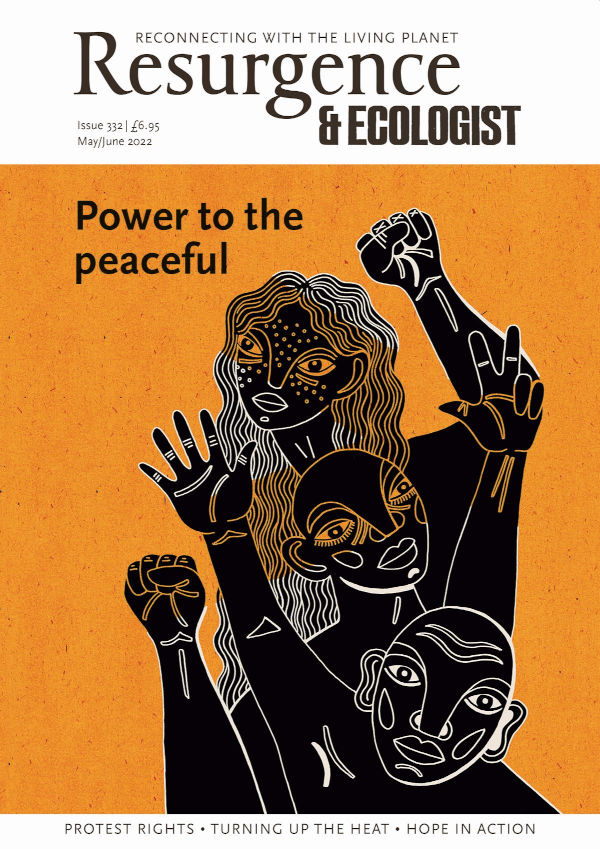 Resurgence was born out of the anti-war movement of the 1960s, and nonviolent resistance to the nuclear arms race. In this issue of Resurgence & Ecologist, we return to our roots, with an exploration of the role of peaceful protest today in our crisis-afflicted world. Vandana Shiva discusses the legacy of India's 'treehuggers' and recent farmers' protests, and we consider the role of 'culture jamming' when challenging the messages of consumer culture.
In the Ecologist section Brendan Montague speaks barrister David Renton about the UK's Policing Bill. Whilst in Connected Life Vandana K looks at a how a number of initiatives in India are developing ways to cool down homes and find solutions to heat stress; and Phuong Quach writes a tribute to Zen Master Thich Nhat Hanh.
For our Feature Story, Charlie Jones and Dan Warrender explore how caregivers can move from anxiety to empathy, making space for more compassionate health care. In Wisdom & Wellbeing Satish Kumar talks to Jane Goodall about living with hope in challenging times and in Art & Culture Pascale Petit speaks with Louisa Adjoa-Parker about Nature poetry.
Highlights
Brendan Montague: Protecting Our Right to Protest
Vandana K: Feeling the Heat
Marianne Brown: Reclaiming our Souls
Satish Kumar: Living with Hope in Trying Times
Anita Roy: Yew Time
Louisa Adjoa-Parker: Finding Jungles in the Countryside
Buy a copy of this issue
Become a member and receive 6 issues a year

Contents
Key
Free for all to view
Free for members to view
Not available
Welcome
We need connection and empathy in these troubled times
Regulars
Community

- Microseasons • Joanne Taylor

A contemplation on microseasons in response to the Resurgence Book Club with Lev Parikian
Obituary

- Obituary: Crispin Tickell • Oliver Tickell

A tribute to a long-standing friend of Resurgence
Letters to the Editors

- Letters to the Editor

A selection of letters to our Editor

On the interdependence of life
Ecologist
Top stories from The Ecologist environmental news website
How UK imports of Russian gas may be heating conflict in Ukraine
Barrister David Renton speaks about the UK's Policing Bill
Unionise for Climate Justice • Eve Livingston
Workplace organising is an essential form of environmental activism
Connected Life
Feeling the Heat • Vandana K
As temperatures rise, people in India are finding new ways to cool down
Treating a Sick System • Helen
The only cure for climate anxiety is for the government to listen to science
One of India's biodiversity hotspots is under threat, but there is hope
A tribute to Zen Master Thich Nhat Hanh
Keynotes
How caregivers can move from anxiety to empathy
Peaceful Protest
A secular peace prayer for people of any faith
Celebrating the history and impact of nonviolent resistance
An interview with Vandana Shiva about India's legacy of peaceful protest
Hungry for Justice • Emma Smart
An activist reflects on her experience in prison
Exploring the creative tactics of culture jamming
Advice on how to be hopeful in times of crises
Wisdom and Wellbeing
An interview with Jane Goodall
Reflections on visiting a 3,000-year-old neighbour
Experiments in sound art derived from a yew tree
Nicola Chester guides us through the landscape of her new book
Art and Culture
Pascale Petit on nature poetry and a sense of belonging
The creative journey of textile artist Jenni Dutton
Reviews
Review of A Bigger Picture: My Fight to Bring a New African Voice to the Climate Crisis
Review of The Book of Hope: A Survival Guide for an Endangered Planet
Review of The Boys Who Said NO! Draft Resistance and the Vietnam War
Review of The Entangled Activist: Learning to Recognise the Master's Tools
Review of Half-Earth Socialism: A Plan to Save the Future from Extinction, Climate Change and Pandemics
Review of Saving Us: A Climate Scientist's Case for Hope and Healing in a Divided World
Review of Flourish: Design Paradigms for Our Planetary Emergency
Review of Anthropocene: Climate Change, Contagion, Consolation