Reclaiming Our Souls
Donate Now
Issue 332

May/Jun 2022
Power to the Peaceful
Peaceful Protest
Reclaiming Our Souls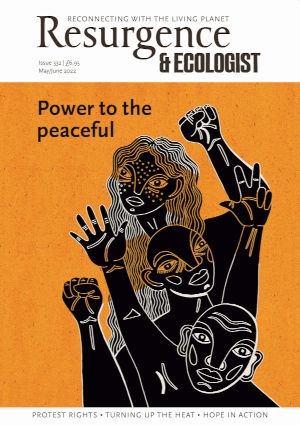 Cover: Rise Up by Sophie Bass sophiebassillustration.bigcartel.com
Marianne Brown explores the creative tactics of culture jamming.
A dancer in a black tutu emblazoned with the yellow and green burning sun of BP's logo poses with her arms stretched above her head. At her feet, bodies in colourful waterproofs and eye masks saying 'Earth' lie collapsed on the cold grey pavement of a Glasgow street. They sing "Extinction" softly and in tight harmony. A banner attached to the advertising board outside the theatre presents the message in the starkest terms: 'GET OIL OUT OF THE ARTS'. In the finale, the dancer is gradually persuaded to remove the BP logo, to much celebration from the choir.

The performance was part of a musical protest outside the Theatre Royal by BP or not BP? and Reverend Billy and the Stop Shopping Choir in the final days of COP26. A few months later, life imitated art as the Scottish Ballet announced in February that it was cutting ties with its oil sponsor. The news came on the same day that the National Portrait Gallery in London was also ending its partnership with BP. (See The Ecologist news on page 6.) The news was hailed as a "major win" for the campaign group BP or not BP? "One by one cultural organisations are finally making the right ethical decisions," Zoe Lafferty, a member of the group, said.

The creative tactics wielded by BP or not BP? are epic – not least an action in 2019 that involved the construction of a giant Trojan horse, which they smuggled into the British Museum to protest a BP-sponsored exhibition about the ancient city of Troy. In an interview shortly before the event, co-founder Jess Worth told Resurgence & Ecologist that the group's use of humour was a powerful tool "to cut through the PR spin", as long as the jokes are not disrespectful or flippant. (See An Epic Protest, Issue 319.) This taps into what Naomi Klein says in her book No Logo: "Something not far from the surface of the public psyche is delighted to see the icons of corporate power subverted and mocked."

Cutting through the spin is no easy task within capitalist societies, where it is difficult to escape the coercions of consumerism, the language of advertising permeating and directing so much of our lives. In the words of critical theorist Herbert Marcuse (in his book One-Dimensional Man, published in 1964): "The people recognise themselves in their commodities; they find their soul in their automobile, hi-fi set, split-level home, kitchen equipment." But the use of art and humour can be a very powerful counterforce to this. In a form of protest known as 'culture jamming', groups as diverse as the Vancouver-based magazine Adbusters, Russia's Pussy Riot, Banksy in the UK, and international artist collective Brandalism work to subvert the messages of consumerist society through tweaking the wording on billboards and through street art and music.

If culture jamming is anything, writes Mark Dery in the Foreword to Culture Jamming: Activism and the Art of Cultural Resistance, it is "the dream of reclaiming our sense of ourselves as citizens in a culture that insists on reducing us to consumers – wallets with mouths, in advertising parlance". The term can be defined as negative, as in the blocking of commercial messages, or it can be likened to a musical jam session, an experiment in cultural forms, and becomes something more creative and constructive, "seeking artfully to invent new visions of the future", according to Marilyn DeLaure and Moritz Fink in their introduction to the same book.

Reverend Billy and The Church of Stop Shopping see their role as illuminators in helping people to reclaim a sense of themselves. They have been doing this for over 20 years, under the direction of Savitri D, through Billy Talen's sermons and the passionate performance of the choir. As part of their actions against Bayer/Monsanto, they filled a hearing by the Environmental Protection Agency with gospel-style music, singing "Monsanto is the devil, no glyphosates," and they marched into a glyphosate chemical plant. They have 'exorcised' a Starbucks and danced through the streets of New York City with Mickey Mouse on a cross. "A lot of our work is just making things visible. Running with a giant neon arrow and pointing at something, that's a vanguard position. It's here, the crisis is right here," Savitri D told Resurgence & Ecologist.

While the work of groups like BP or not BP? focuses a lot on press coverage and social media to disrupt the one-way flow of corporate messaging, Reverend Billy and the Stop Shopping Choir have a different goal. "Our mission is to introduce wildness into public space and open up public space into a different kind of behaviour," Savitri D says. This can be seen in the way they interact with people in the street, singing and dancing. Many bystanders turn and watch: some look shocked or turn away, some laugh, and others even join in. "The street is a charged space because there are players that you can't control, pressures that you can't foresee," Savitri D says. "The police, casting them in the play, for example. The street has the unknown in it in a very powerful way."

This 'wildness' has to come from inside, Billy continues. "Wildness must come from an invitation to wildness, dancing with wildness, becoming wildness. And let the attacks on wildness, by Bayer/Monsanto for instance, let them be the outsiders and meet them from wildness so you have that strength."

At a time when it's all too easy to find yourself sucked into doomscrolling the latest global news, an injection of humour is very welcome. Whether it is through 'subvertising' advertisements on billboards and spreading the word on social media, or via flashmobs and creative actions on the street, the jamming of this consumer messaging is a huge relief. It gives us the space to step outside our commodified reality and see it for what it really is. The successes of the campaign against oil sponsorship of the arts show too that it works. Savitri D and Billy Talen take this peaceful protest one step further by inviting us to look away from advertisements and see each other.

Care to Dance
Dressed in her BP-logo tutu, Francesca Willow spoke to Resurgence & Ecologist outside the Theatre Royal.

I'm not the only one in the dance sector who is environmentally minded, and groups like BP or not BP? and Liberate Tate have been working on removing oil and gas and fossil fuel institutions one by one. I think dance hasn't been so much of that conversation. It's been the Scottish Ballet and the Royal Ballet, the big companies, but I know that the rest of us who make up this sector – teachers, performers – this is something we all really care about because we can't have any dance on a dead planet. It's time for this sector to become more involved in the conversation.

The important thing about actions like this is that they are always focused at management and boards of directors who are making these choices. They are never focused on the workers. That could be said for a lot of environmental actions, because you've got to have solidarity with normal working-class folks, and the arts sector in general across the board has been really squeezed, and wages aren't necessarily always good and the jobs are scarce. A permanent contract is hard to come by – a lot of dancers are employed on a freelance basis. It's very unstable, especially during Covid. From what we know, it's not exactly clear how much BP sponsors the Scottish Ballet, but we know it's something really small, so those companies could exist without that sponsorship. As we've seen with the Edinburgh Festival, the Tate, the RSC and the National Theatre, all of which have ended partnerships with fossil fuel institutions, we've seen that this can be done.

Francesca Willow is a freelance dancer and activist. @ethicalunicorn