Finding Jungles in the Countryside
Donate Now
Issue 332

May/Jun 2022
Power to the Peaceful
Art and Culture
Finding Jungles in the Countryside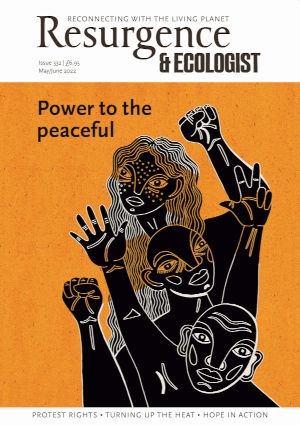 Cover: Rise Up by Sophie Bass sophiebassillustration.bigcartel.com
Pascale Petit speaks with Louisa Adjoa-Parker about Nature poetry and her sense of belonging.
Louisa Adjoa-Parker: Can you tell us about your family and background?

Pascale Petit: I was born in Paris and soon afterwards I was taken to live with my grandmother in rural Wales. When I was two and a half I went back to Paris until I was seven. I was in a children's home some of the time: my parents were very dysfunctional. My background has the dichotomy between the countryside of my early years and the stark urban reality of Paris. In Wales we had a council house with no hot water, but it was a happy place – my grandmother was loving. She was Indian, which was a family secret at the time. I would ask her, "Gran, why do you have a suntan in the winter as well as summer?" She would reply that it was because she was always in the garden.

In contrast, 1950s Paris was a grey place. I was unhappy there. When I was back with my grandmother, she would say, "If you're naughty you'll go back to Paris," so it became a threat. I loved the countryside and my grandmother's huge garden. I would help with farm jobs and hide in hedges and under tree roots; I loved vegetation as well as the animals. I only learned at my grandmother's funeral that she was born to her father's maid in India and brought up as part of his family. Teachers told me she was "the (good) witch": she had a strong second sight and often told me stories of the supernatural world.

LAP: You draw on Nature so much in your work. Can you share further memories of being in Nature as a child?

PP: My grandmother's garden was my first wild planet: her lawn was my savannah, the shrubbery the jungle. When I was 12 my mother bought an overgrown, steep vineyard in the south of France. There were stone huts we had to hack our way to. The insects looked huge. There were hornets, snakes and lizards. I got to know my mum there but had a difficult relationship with her. I went to live with her when I was 13; she had come to Wales, leaving behind a glamorous life in Paris. It was an unhappy time for us both. As soon as I could, I ran away to art school. When I lived with my mother, I needed to escape from her, so I would go to my room and draw and write. I made worlds in my head where I could be safe. I fell in love with the romantic poets, and I adored Keats.

LAP: Tell us about your journey as a writer.

PP: I'd always written poems, although I wasn't very good. I was a sculptor at the Royal College of Art but found it too hard physically. I realised I could make things with words better than I could with materials. I transitioned, teaching Gaia projects in schools, and then I stopped sculpting altogether. Making poems, for me, needs to be physical, organic, sensory, perhaps a leftover from creating worlds to escape into, and trying to capture the natural world in its wild state in case it vanishes.

My first book started with my first obsession, waterfalls. I learned about Angel Falls in Venezuela – the highest waterfall in the world – and went there twice, flew over it, canoed to the base. Looking at it was like looking at my god. From that grew my interest in the Amazon rainforests and the tribal people who live there, everything they know, their incredible myths. My next obsession was jaguars. I was spending time in Paris writing and watching jaguars at the zoo. I went to the Peruvian Amazon and saw harpy eagles, king vultures, and even a jaguar in the wild! In Mama Amazonica I wrote about the Amazon as my abused and mentally distressed mother.

LAP: How do you explore a sense of place and belonging through your work?

PP: I was always displaced as a child and didn't feel I belonged. I was drawn to the Amazon because I felt an affinity with it, and I decided to go to India because I'd started writing a collection about my grandmother, Tiger Girl. She'd told me stories about being in a cot in a tent when a tiger entered. So I read about tigers, realised how threatened they are.

I fell in love with India, its forests, wildlife and national parks. You can't get all your information from books. For example, you would never know that trees give out smells to discourage predators. One of the most incredible things was the feeling of being in a theatre when prey animals spot the tiger or leopard and begin to make their operatic alarm calls.

LAP: Do you think eco-poetry has a role in communicating the urgency of the environmental crisis?

PP: Recently I have begun considering myself an eco-poet. If I'm writing a poem about somewhere, I have to go there and absorb things to the roots of my being. I've always been struck by the wonder of the natural world. I wrote a poem in the voice of the beast of Bodmin Moor, speaking through the landscape. I'm frightened that animals are going to disappear. I think I have a duty to write about these things.

LAP: What role do you feel diverse voices might play in this?

PP: I am extremely interested in this. I lead workshops on looking at non-Euro-centric views about Nature and eco-poetry. These are bringing fresh air into British Nature poetry, of which there is a wonderful tradition. I've always been excited by what other cultural outlooks bring to Nature poetry. There are many new and exciting voices.

LAP: Do you have any advice for new or emerging poets with an interest in land and Nature?

PP: Don't follow the fashion. Be the fashion! Write about whatever you find exciting. Look for your own way to write form. Books can go a long way, but it's not the same as immersing yourself in a place. Smell it, get the breath of it. Finally, don't just read British poets or poets of your own generation. Read widely, including poetry from other cultures about the natural world.

Pascale Petit's eighth collection, Tiger Girl (Bloodaxe Books, 2020), was shortlisted for the Forward Prize and for Wales Book of the Year. Her seventh collection, Mama Amazonica (Bloodaxe Books, 2017), won the inaugural Laurel Prize for eco-poetry and the RSL's Ondaatje Prize and was a Poetry Book Society Choice. Listen to Pascale share her poetry as part of The Resurgence Trust's Acorn Poetry Festival on 11 June. Buy tickets at tinyurl.com/acorn-2022