A Force of Grace
Donate Now
Issue 332

May/Jun 2022
Power to the Peaceful
Reviews
A Force of Grace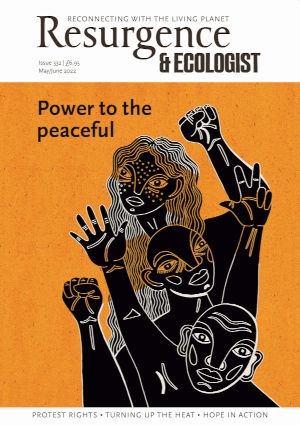 Cover: Rise Up by Sophie Bass sophiebassillustration.bigcartel.com
Jane Goodall's manifesto for hope inspires Alistair McIntosh. The Book of Hope: A Survival Guide for an Endangered Planet by Jane Goodall and Douglas Abrams. Viking, 2021. ISBN: 9780241478578
I have a minor but enduring memory of Jane Goodall. In 1999, the Centre for Human Ecology, of which I had been the teaching director, put on a landmark conference at Findhorn called For the Love of Nature? Speakers came from around the world, and there were some 300 delegates, many of them penniless students. While the conference put British ecopsychology on the map, it broke the bank. Goodall was the highest-profile speaker in a star-studded cast. She'd requested just her institution's standard fee (of which more later).

Now to this book of hope. Douglas Abrams weaves rich anecdotes together as he walks us through a conversational garden with Goodall, pausing only for the odd watering with her favourite horticultural supplement, Johnnie Walker Green Label.

Goodall got into primatology not through zoology, but through secretarial studies. Her early passion was to be a naturalist – a lover of Nature – and not a scientist, whose study can be more reductive. The breakthrough synthesis came when she met the eminent paleoanthropologist Louis Leakey. Two days earlier, he'd suddenly lost his secretary. It then transpired that he also needed an accomplice who could go out into the wild and study primate behaviour.

In those days, the presumption of objectivity by which science worked meant that emotional attachment to animals was taboo. Lab conditions were often cruel, something that became another of Goodall's campaigns. Even in the field, animals were depersonalised, referred to by numbers rather than names.

Leakey had a hunch that to study primate behaviour at a level that might cast light on human origins, women might be better at the job. Not for nothing did the leading three – Dian Fossey, Biruté Galdikas and Jane Goodall – later earn the moniker 'the Trimates'.

Goodall resisted pressure from some quarters to play down primate aggression. Aggression, she thinks, has its roots in both nurture and nature. It has "almost certainly been part of our genetic makeup", she tells Abrams, inherited from our hominid ancestors. Born in Hampstead in 1934, she has witnessed war at first hand, not just in Africa, but also in her childhood England. Churchill remains her hero, and the second world war taught her much "about death and the harsh realities of human nature – love, compassion, courage on the one hand; brutality and unbelievable cruelty on the other."

Hope, to Goodall, is not mere optimism. Hope is humble. It does not claim to know the future. But humble isn't feeble. "You need hope to get you going, but then by taking action, you generate more hope. It's a circular thing," she says. That circularity brought her round from non-human primates back to humans. Chimpanzee problems are "inextricably linked to people problems", she asserts, and thereby she came to realise that "unless we helped people, we could not help chimps." In short, everything connects, and animal rights cannot be separated from social justice.

"There is an old soul in that child," an elderly woman told her nanny when Goodall was a baby, and Goodall speaks often of "a Great Spiritual Power". She felt it in the Tanzanian forest in the 1960s, and she felt it again in 1977 when raised to ecstasy before the great rose window of Notre Dame. Her spirituality, she insists, is not a "touchy-feely tree-hugging hippie sort of thing". Rather, it's a moral and spiritual force that she glimpses now in youthful climate change protesters.

This book owes something to Mr Walker's whisky, much to Douglas Abrams' gardening, and most to greatness of soul. And about that speaker's fee? She waived it, graciously releasing our people from embarrassment. This book portrays Jane Goodall as a force of grace.