Counting The Beans
Donate Now
Issue 334

Sep/Oct 2022
Trouble Brewing
Coffee
Counting The Beans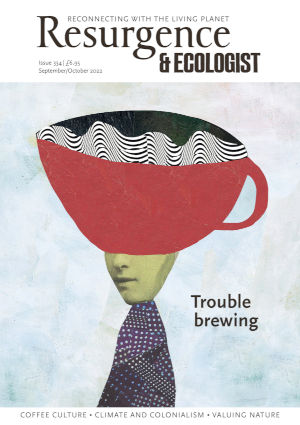 Cover: Artwork by Katherine Streeter www.katherinestreeter.com
Farmers in Vietnam are feeling the heat, but there is hope, write Bac Pham and Marianne Brown.
On a muggy afternoon in Hanoi, customers at a coffee shop sit under giant umbrellas, raising their voices above the thrum and beeping of traffic. Some sip smoothies or cups of green tea, but the most popular drink on this busy roadside today is coffee. Among the group is office worker Duong Thanh Huyen. "I know that coffee has been grown in Vietnam since the French colonialists arrived," she says as she stirs her cup of ca phe da (coffee with ice). "Coffee is mostly grown in the Central Highlands of Vietnam. Lam Dong and Dak Lak provinces are very famous for coffee."

As the second-most-produced cash crop after rice, coffee is hugely important in Vietnam. The country follows Brazil as a leading global coffee exporter, according to Vietnam's Ministry of Agriculture and Rural Development, with Vietnamese beans reaching markets in the EU, US, Russia, Japan and the UK. But this productivity has come at a high environmental cost – deforestation, overuse of water sources, and reliance on fertiliser and pesticides.

Coffee was brought to Vietnam by French colonialists in the 1800s. During the country's long fight for independence from France and subsequent war with the US, coffee farming saw a dramatic decline, but it was revived significantly in the 1990s when the government shifted towards a market-driven economy. The use of pesticides and fertilisers and a focus on monocrops both fuelled this push in production, causing a gradual decline in soil quality. Most coffee plantations are in the fertile Central Highlands, an area with a tropical savannah climate, and have been grown by generations of ethnic minorities. Today this area is home to nearly 90% of the country's total coffee cultivation, made up of mostly privately owned small farms.

After years of colonial rule, war and economic change, coffee growers are now facing a more potentially catastrophic challenge – rising temperatures and drier conditions resulting from the climate crisis. "The rainy season in the Central Highlands usually starts in mid-May, but this year it is almost the end of June and still no rain," coffee farmer Nguyen Thi Van tells Resurgence & Ecologist by phone. She and her family have been growing coffee in Kon Tum province in the Central Highlands for 40 years. "We are very worried about the impact of climate change on our crops because it changes the time of growing and harvesting," she adds. "The yield of coffee is highly dependent on the climate. At this time, it is sunnier than last year, so it is certain that the growth and development of coffee trees will also be affected. Too much sunshine, and we will have fewer kernels, less productivity." Van says she had to build a separate irrigation system, "to make sure that no matter what the weather is, the plants are well watered".

Some farmers, however, are turning away from conventional methods of coffee farming. A comparative study published late last year in the journal Frontiers in Sustainable Food Systems looks at the use of shade farming (agroforestry) in a coffee-growing village in the Central Highlands. By growing additional plants, this system not only encourages greater biodiversity, but also helps mitigate the effects of global heating by sequestering carbon and lowering temperature beneath the shade plants.

One farmer included in the research interspersed his coffee crops with 200 Senna siamea plants. As this legume attracts predators of coffee pests, there was no need to use pesticides. The leaves could also be used as green compost, and the root systems helped stabilise the soil and keep it fertile. After five years, the plant could be harvested for timber. Additionally, jackfruit and guava trees as well as bananas provided important food crops for household consumption.

The financial return from shade farming was greater than that from conventional farming, despite higher input costs, according to the research. Total cash income was significantly higher because of the improved quality of the coffee, a higher premium for organic coffee, and additional crops from the farm.

Making the change was a big challenge, however, and only 3 out of 30 farmers in the village did not use conventional methods. "Shade-grown organic coffee is viewed as an experimental farming practice in this village, and other farmers are waiting to see how well the organic coffee succeeds environmentally and financially before they consider implementing the technique," the study said. "Despite a higher projected net income from organic coffee, only young farmers are considering transitioning their farms, because the initial expenses and labour costs of conversion are considerably high for the older farmers. Many farmers are also concerned that without pesticides, their crops will be overrun by pests in the area, particularly the borer beetle and roya fungus."

One way to encourage farmers to switch to agroforestry would be to extend the research to cover more farms in the area and, if successful, to expand the model across the region. "To make this effort feasible, it would require institutional support from the local government," the authors said.

Overseas markets also provide some encouragement. "There is a demand for organic coffee with traceability in western countries. Consumers are willing to pay a higher premium to directly support the farmers," lead author of the study, Le Vu Quan, tells Resurgence & Ecologist. Quan is a senior research associate affiliated with the Institute for Circular Economy Development at Vietnam National University in Ho Chi Minh City. He points to MotMot Coffee, a project supporting coffee farmers in Nicaragua and Vietnam through direct purchase, run as a business via Seattle University. "We are not only selling coffee. We are selling the stories of the farmers," he says.

It is this narrative – of a system of farming that puts life back into the soil rather than stripping it away – that can help coffee growers in the face of our global environmental crisis. From the streets of Hanoi to the coffee shops of Europe, it is a story we should all be sharing.