Keeping Tradition in Sustainable Style
Donate Now
Issue 334

Sep/Oct 2022
Trouble Brewing
Wisdom and Wellbeing
Keeping Tradition in Sustainable Style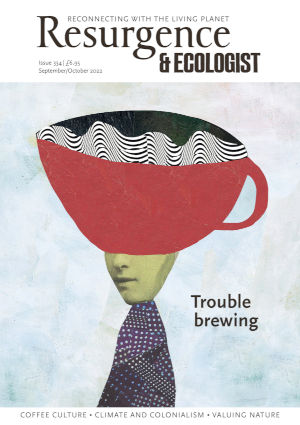 Cover: Artwork by Katherine Streeter www.katherinestreeter.com
A second-hand South Asian clothing business is combining fashion, culture and respect for the Earth, writes Zainab Mahmood.
On a sunny, crisp Friday morning in February I trekked from my flat in south west London to King's Cross, excited to try on some pre-loved outfits from Circular Threads, a South Asian clothing consignment business. Anoli Mehta, the founder, warmly welcomed me into her home and we immediately began nattering away whilst I removed my various waterproof winter layers. A fuchsia dress with a floral embroidered net dupatta and a peach and gold lehenga set were hanging on a rail ready for me to try once we took a breath from our conversation.

As brown people in the UK, we so often suppress and refrain from talking about our cultures out of fear of exclusion and racism. Mehta, however, celebrates her Punjabi and Gujarati heritage through Circular Threads as well as caring for the planet. Our shared passion for the kind of fashion that is bold and joyous yet gentle on the Earth meant there was an instant ease when talking about our journeys into the world of circular fashion.

My exploration of slow and circular fashion has been grounded in my experience as a Pakistani woman in the diaspora. I know Faisal, my family tailor in Karachi, personally. Faisal tailors and upcycles my mum's old traditional clothes for me, and since I was a child he's been reproducing clothes I already have and realising designs I've dreamt up with fabrics my mum and I hunt for in local markets or find stored at home in London. Mehta shares this experience: "Going to India, seeing it first-hand is just incredible: how intricate some of the handwork is, the time, the effort, the creativity that goes into these pieces of clothing, the types of material they use, the ways they dye."

Respect for the labour and material resources that go into making our clothes, and then wearing and repairing them are more important than ever. According to Oxfam, consumers in the UK alone send 13 million items of clothing to landfill every week. In fact, much of the UK's clothing waste is shipped off to countries in the global south because there is literally not enough space in the UK to contain it. This is known as waste colonialism, whereby one nation uses another as a dumping ground for its waste.

The appreciation that Mehta has for the production of Indian clothing was a motivation to set up a business that helped save bridal and wedding guest wear, which is so often worn just once, from going to landfill sites. Since the launch of Circular Threads in August 2021, over 200 items have been listed on the business's website.

For South Asians in the diaspora who don't wear traditional clothing on a daily basis, weddings are a key reason to own any at all, and cancelled weddings due to Covid-19 left many people at a loss as to what to do with expensive heavy and bulky bridal and guest wear. "I have had many bridal pieces come in brand new, never been touched, still in their bags. I was just shocked. Imagine the labour that went into it and the impact on the environment that each of these pieces would have had, and they're now just sitting in wardrobes unworn," says Mehta.

People who wish to sell their preloved clothes are invited to fill out a form with details of the items for Circular Threads to vet, approve and list on the website. Once an item is sold, the seller is paid, with Circular Threads taking a 25% commission, or 35% for sellers who elect to use the VIP service through which Circular Threads does all the photography, measurements and descriptions.

South Asians are certainly looking for ways to pass on their traditional clothing, whether unworn or not, but there's some resistance to getting on board with buying pre-loved and joining the 33 million people who did so for the first time in 2020. "There are such negative connotations associated with hand-me-downs, but they should be seen as hidden gems rather than something that you want to get rid of," Mehta tells me.

When I previously mentioned purchasing a second-hand item of clothing my Nani (maternal grandmother) had complimented, she thought it was out of necessity rather than joy. Whilst affordability is a great perk of shopping pre-loved, I am simply honoured and overjoyed to extend the life of clothing that has been loved by someone else, whether I know them or not. Mehta and I are aligned in that we believe that sharing clothes is a way of celebrating them, not dismissing them. "A big part of Circular Threads, over and above its circular nature, is that it allows people to relive memories and retell stories through their clothing", Mehta says.

A recent impact report by Vestiaire Collective, an online marketplace for pre-loved luxury fashion, revealed that 50% of its sellers wouldn't have sold their stuff had they not used its platform. If Circular Threads follows in its footsteps, we South Asians and people who are not South Asians who want to appreciate our clothing will have access to numerous beautiful garments that have been a part of so many special occasions.

Keeping South Asian clothing in circulation is even more important to me than keeping western clothing in circulation, as it's the main way I visually represent my culture and my heritage. There's something comforting and empowering about my body being protected by threads that may have been handwoven by a distant relative who learnt the craft from an elder in the family. Swapping, sharing and reselling South Asian clothing is environmental and cultural conservation.

"When you go to a second-hand shop, you're creating a community of like-minded people," says Mehta. "As a community, we need to come together and make a difference by sharing our clothes and sharing our memories, forming a club of people who are doing good for the environment."

What are you waiting for? Everyone's welcome to join our planet-conscious fashion club.