The Action of Listening
Donate Now
Issue 334

Sep/Oct 2022
Trouble Brewing
Art and Culture
The Action of Listening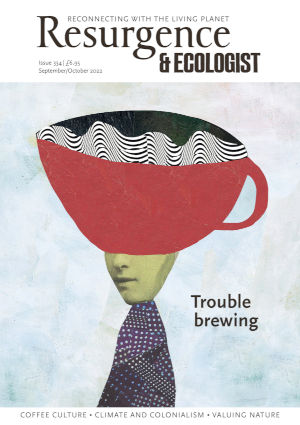 Cover: Artwork by Katherine Streeter www.katherinestreeter.com
Huw Wahl interviews renowned sound artist Chris Watson about his new collaboration.
Chris Watson has always worked with the weather. In his home studio in Newcastle, he compiles and composes his vast array of recordings, and from anywhere between his garden and the farthest corners of the globe he is busy collecting sounds from the natural world, often focusing on threatened environments.

Watson brings to our ears the things we otherwise might miss, and, more harrowingly, the things that might soon go missing. In this respect, it seems more than appropriate that, along with contemporary music ensemble Manchester Collective and Spanish film-maker Carlos Casas, he is involved ...
To read the rest of this article, please buy this issue, or join the Resurgence Trust. As a member you will receive access to the complete archive of magazines from May 1966.
If you are already a member, please Sign in