Hero's Journey
Donate Now
Issue 334

Sep/Oct 2022
Trouble Brewing
Reviews
Hero's Journey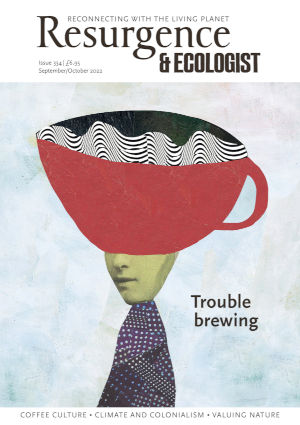 Cover: Artwork by Katherine Streeter www.katherinestreeter.com
A path of transformation moves Rashi Goel. After Ithaca: Journeys in Deep Time by Charlotte Du Cann. Sumeru Books, 2022. ISBN: 9781896559834
After Ithaca. Does the name not intrigue you? It made me think of the city that symbolised home for Odysseus. The Greek hero spent 20 years going through various challenges, gaining myriad experiences until he could finally return home, where, once again, he was tested. Charlotte Du Cann's book mirrors this journey. It is essentially a collection of essays about her life, the unconventional path it took, her experiences of feeling deeply, activism and transformation, and finally her return home to England. It was only towards the end of the book that I was able to see the significance of the title. It does seem like Du Cann saw a parallel with her life and that she's a fan of mythology.

The book combines a few different styles. Parts of it read like a travelogue, while others read like a descriptive personal essay. It doesn't follow an exact chronology and dips in and out of incidents or periods of the author's life. It is divided into four sections – Seeds, Herd, Sky and Ancestor – names inspired by the four tasks Psyche was given by Eros' mother, Venus. The author makes us think about how in reality, at some level, we all have a little Psyche within us. We're all seeking love and approval and are disappointed when we fail to get it. But we all need to keep moving ahead, prioritise our responsibilities, make the right choices and go on. This is one of the messages the book is speckled with.

What I love about this collection of essays is the ease and clarity with which Du Cann articulates her feelings. She creates powerful imagery throughout the book while questioning age-old conventions and taking us on a rollercoaster ride of her emotions – anger, pain, sadness, resentment, resolve and more. Her passion for plants is evident in each of the essays. In 'Lillies', a parallel is drawn between people and flowers, 'Varanasi' contains an assurance that plants can help open up one's imagination, and in 'The Dye Garden', Du Cann reminds us that we all need to belong to the trees and the wind.

The book covers a wide range of subjects spanning various cultures and anecdotes from all the places Du Cann has visited. Her words convey a deep relationship with the planet, which she says is going through systemic collapse and needs resilience, relinquishment and restoration. What shift are you going to make as the ship starts to go down?