The Story of this issue
Donate Now
Issue 338

May/Jun 2023
Call of the Wild
Welcome
The Story of this issue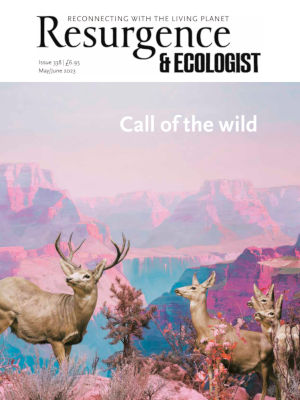 Cover: Mule Deer, 2021 © Jim Naughten www.jimnaughten.com
What does wild mean to you?
The theme for this issue – 'Call of the wild' – started with a poem and one that is well worth looking up online. The poem is 'If I wanted a boat' by Mary Oliver, from her Blue Horses collection. To summarise briefly, it is about finding that 'wild spot' in your mind, in your life, in your choices – and even in your reading material (Resurgence & Ecologist magazine).
What we had not expected when we set sail with this issue was that this is such a rich and glorious theme that we could have filled several magazines, over and over. And as you make your way through the following pages, you might notice this is also a theme that was way too exuberant to stay contained in the dedicated theme pages and that it has happily spilled and tumbled over into other sections.
The invitation here, throughout this whole May/June issue, is to ask: what does wild mean to you?
You can turn to the paintings of artist/photographer Jim Naughten (who also shared his work with us for this spectacular cover) and read my conversation with him to learn how the idea of 'wild' plays through his work, and you can turn to the Wisdom & Wellbeing section and fall madly in love, if you never have, with 'the golden misfit', otherwise known as the humble dandelion.
Arts writer PL Henderson takes us into the dramatic and wilder world of an author best known for her charming children's characters, and crafts writer Annie Warburton shares her delight in the work of a ceramicist who has made a very moving connection between communities that often feel overlooked – particularly carers – and the resilience of those wild plants that the world, for the most part, might not take the time to stop and notice.
This is an issue that is filled with so much that is wild and tempting that I am quite sorry to see it leave my desk. But I am happy, as always, that it finds its way to you and yours…
A big thank you, as ever, to the talented team who work so hard behind the scenes to put each issue of the magazine together, and, if we are allowed just one moment of trumpet blowing, I'd like to leave you with this wee post from one of my own super-heroes, the spiritual writer, former monk and psychotherapist Thomas Moore, who has these kind words to say:
"For its beauty, intelligence, clarity and absolute social relevance, Resurgence is by far the best magazine around. It is the only one I always read from cover to cover."
I'm already thinking of having this tattooed on my wrist…
You will find the Mary Oliver poem in full at tinyurl.com/mary-oliver-boat