Call of the Wild
Issue
338

• May/June 2023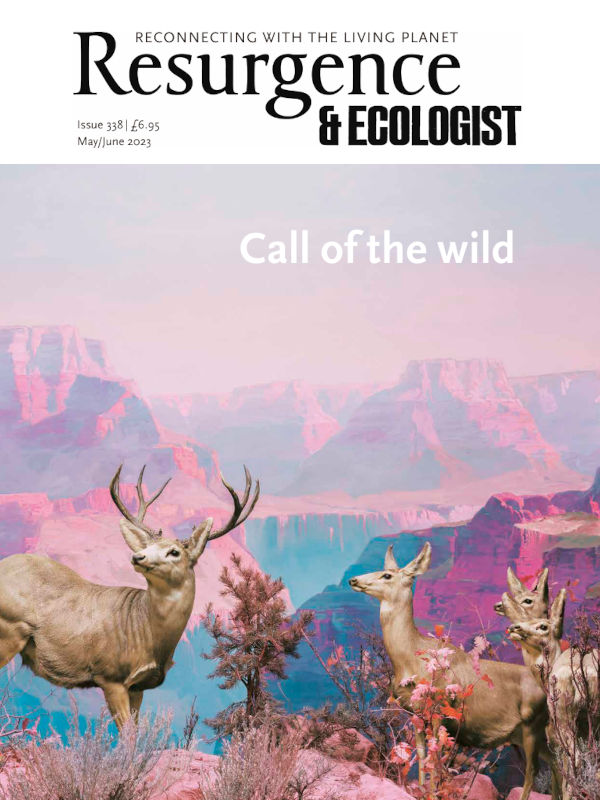 In this issue of Resurgence & Ecologist we take a listen to the 'Call of the wild'. Artist Jim Naughten shares his vision of Eremozoic – the Age of Loneliness with wildlife canvases as disturbing as they are beautiful. Ecologist editor Brendan Montague steps into an 'educational wilderness experience' in the African bush where his biggest surprise is his own response to the wild; whilst wild traveller Angela Maxwell describes learning how to deftly find her way across the wilds of the Australian desert – and her own life – by listening with her feet, and her heart.
The Slow Read is a call to action by John Pearce, author of Gaia: A Faith for the Future, in which he shares his plan to build an environmental Movement with a capital 'M'. In The Ecologist pages Anna Badkhen and others share what they see as the harrowing environmental fallout from the war in Ukraine; whilst in Connected Life Abigail Entwistle argues that it is time for a more diverse recognition of what Nature conservation takes and what actually works.
In our Wisdom and Wellbeing section artist Matthew Shaw, one of the founders of the Stone Club, shares how a thriving community and inclusive space has been created based on a shared reverence for ancient stones. Our Wild Arts section features an interview by Anna Souter with artist Ingela Ihrman who talks about her extraordinary new sculpture at the Eden Project which is designed to disappear.
As we explore the theme 'Call of the wild' through the pages of our May/June issue, the invitation is to ask: what does wild mean to you?
Highlights
Building a Movement: John Pearce
Mutual Aid: Jan Goodey
Alien Worlds: Steve Nicholls
Into the Wild: Brendan Montague
First Came the Landscape: Anna Souter
The Glorious World of Wild Flowers: Stephanie Boxall
Buy a copy of this issue
Become a member and receive 6 issues a year

Contents
Key
Free for all to view
Free for members to view
Not available
Welcome
An invitation to ask: what does wild mean to you?
Regulars
Introducing Resurgence Ripples
A selection of letters to the Editor
The paintings of Bangladeshi-born Shafique Uddin evoke an intimate kinship between all creatures
Ecologist
Top stories from The Ecologist environmental news website
Exploring the impact of war in Ukraine on the ecology and environment
Turning to art to make sense of the senseless
Counting the cost for wildlife of the war in Ukraine
Just Stop Oil activist on the realities of prison life
Connected Life
The case for a more diverse definition of Nature conservation
An invitation into the world of insects
The Planet Local Summit will be a pivotal movement for those still hoping for real change
A tribute to the author of Small is Beautiful which celebrates its 50th anniversary this year
Feature Articles
A blueprint for a new environmental movement
Call of the Wild
An interview with artist and photographer Jim Naughten
Stepping into an "educational wilderness experience"
Navigating the wild requires us to pay attention and listen deeply
Art and Culture
Exploring the work of ceramicist Katie Spragg
When a piece of art has been designed to disappear back into the landscape, when does it stop being art?
Finnish author Tove Jansson had a life-long affinity with the wild
Wisdom and Wellbeing
How a thriving community built of a shared love of old stones emerged
Getting to know wild flowers on your doorstep can deepen your connection to Nature
On the glory of the dandelion and sharing some earthy recipes
Reviews
Review of Nomad Century: How to Survive the Climate Upheaval
Review of Hot Take
Review of Hoofprints on the Land: How Traditional Herding and Grazing Can Restore the Soil and Bring Animal Agriculture Back in Balance with the Earth
Review of Thanks for Sharing
Review of Grounded: A Journey into the Landscapes of Our Ancestors
Review of Twelve Moons: A Year Under a Shared Sky
Review of Gathering Moss: A Natural and Cultural History of Mosses