Why there's still hope
Donate Now
Issue 339

Jul/Aug 2023
Finding Kinship
Reviews
Why there's still hope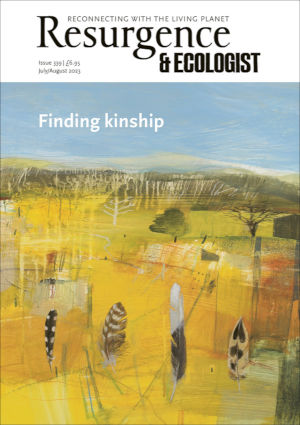 Cover: A Four Feather Walk, acrylic and mixed media on cradled panel, by Fiona Millais www.fionamillais.com
Ed Davey reviews Five Times Faster: Rethinking the Science, Economics, and Diplomacy of Climate Change by Simon Sharpe
When the history of the effort to address global climate breakdown is written, at some point in the 2050s, and future generations look back at what was and wasn't done in the first half of the century, I believe many will pay special attention to the work of senior officials in positions of authority in governments.
Here in the UK we have been fortunate to have some extraordinarily diligent and intelligent civil servants who have applied themselves to addressing the climate crisis, often amid changing political fortunes. One of the most influential and far-sighted of these is Simon Sharpe, a diplomat who served in India and China, worked for the foreign secretary's special representative on climate change, Sir David King, and then went on to be one of the UK's main strategists in preparation for COP26 in Glasgow in 2021.
Five Times Faster is a well-written, cogent, intellectually generous and rigorous account of Sharpe's work and thinking on climate change, drawing on first-hand experience as well as on the academic literature. In short, it is one of the best books on climate I have read. Sharpe sets out his argument in three tightly woven and interrelated parts. The first begins with an encounter with Chinese officials visiting London in the autumn of 2013, during which Sharpe realises that even one of the most powerful governments in the world is not giving appropriate weight and credence to the risks of climate change. There follow a fascinating and important few chapters unpicking climate science, the risks of climate breakdown in terms of it being "too hot for crops" and there being "too much sea for cities", and the risks of "runaway tipping points of no return". Sharpe argues for the urgent need for governments to attain a better understanding of systemic risks, and for climate risk assessments to reach heads of government as a matter of course.
He then turns to an extended and incisive section on the economics of climate change, which mercilessly unpicks the "spurious precision and arbitrary choices" of how so much of the conventional economics trade has dealt with climate (with particular criticism meted out to the Nobel laureate William Nordhaus). Sharpe argues instead for the "seeds of a new approach", in which a broader understanding of the "economy as an ecosystem" is established. Influenced by the economist Mariana Mazzucato, with whom he has co-authored papers, Sharpe favours a "mission-oriented" approach to climate policy, citing examples of where governments and other actors – "pushing from all points in the system" – have acted effectively, for example to "tip coal out of the power sector" and "petroleum out of transport".
In the third section, Sharpe describes the role of diplomacy. He starts with a helpful potted history of "how to grow an agreement", referring to the climate negotiations since 1992, before describing the successes and failures of the Paris Agreement, and the "attribution problem" that followed: was it the Paris Agreement itself, or general geopolitics, that has led to progress since 2015? The book then moves towards a close, focused on the systems transitions needed in the global economy, "unprecedented in terms of scale, but not necessarily in terms of speed".
Sharpe writes insightfully about "the gains from international cooperation", citing examples of plurilateral collaboration en route to COP26 in sectors as diverse as "from coal to clean power", "the just transition" and "from oil to electric vehicles", and a number of important efforts on deforestation and on the role of Nature in addressing climate change.
In closing, the author shows how such action could lead to a series of positive tipping points – or "tipping cascades" – that could yet enable the world to avert climate catastrophe and usher in a safer, fairer future for all. If we achieve this goal, Sharpe will have played his part, and his book deserves the widest possible audience to that end.

Five Times Faster: Rethinking the Science, Economics, and Diplomacy of Climate Change by Simon Sharpe. Cambridge University Press, 2023. ISBN: 9781009326490