Finding Kinship
Issue 339 • July/August 2023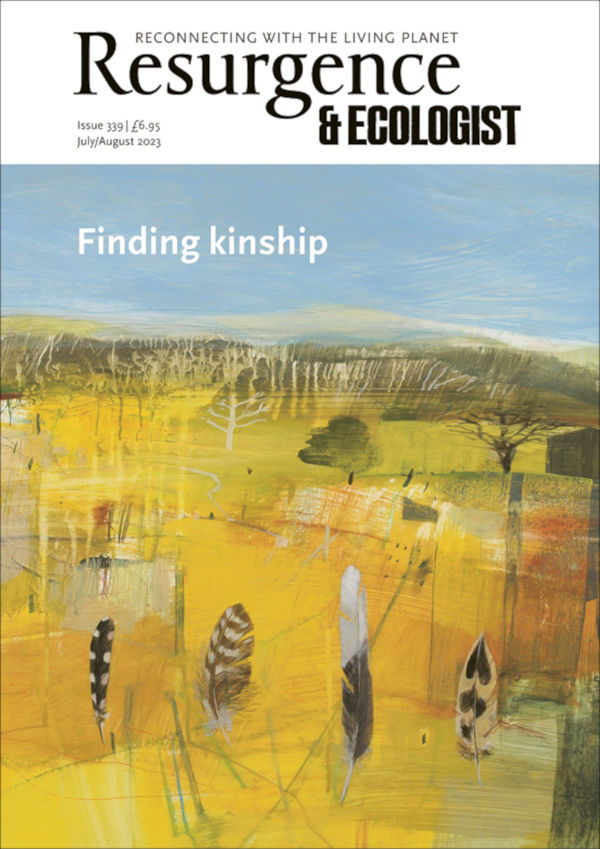 In this issue of Resurgence & Ecologist we explore the idea of becoming better kin and all the ways we might do that, including taking better care and more notice of the millions of invisible carers – young and older. We highlight a new literary prize that celebrates writing as respite for carers, and Satish Kumar invites us to think about our kinship with the one thing we all share, in his meditation on taking care of the Land.
The Slow Read is by Chandran Nair, founder of the Global Institute For Tomorrow. Nair suggests that nobody is entitled to disturb Nature in order to experience a sense of 'awe', and that not only is it high time to leave Nature alone, but the time has also come for an active, managed retreat.
In our Ecologist pages Roman Goergen reports on a fascinating study by Canadian scientists who noticed a strong link between the distribution of different Indigenous languages and the distribution of genetically different grizzly bears, and in Connected Life we join self-proclaimed orchid outlaw Ben Jacob on one of his clandestine rescue forays.
In Wisdom and Wellbeing we meet exuberant 'rebel gardener' Alessandro Vitale to talk zero waste food production and indigenous urban gardening, and in Art & Culture Annie Warburton reviews Ai Weiwei's current exhibition Making Sense at London's Design Museum.
Highlights
The ocean and us: Farah Obaidullah
Planting in a changing climate: Charlotte Sterland
The 'awe' industry: Chandran Nair
A different kind of therapy: Anita Roy
The rebel gardener: Susan Clark
Unravelling the history of people and planet: Nick Robins
Buy a copy of this issue
Become a member and receive 6 issues a year

Contents
Key
Free for all to view
Free for members to view
Not available
Welcome
Finding new ways to prioritise kinship
Regulars
Community

- News from the Resurgence Community • Susan Clark

Resurgence Ripples - a celebration of positive action
Letters to the Editors

- Letters to the Editor

A selection of letters to the Editor
Archive

- Nature-deficit disorder • Richard Louv

Children cannot enjoy the gifts of nature if adults are saying one thing (get outdoors) and doing another (staying inside)
Ecologist
Top stories from The Ecologist environmental news website
Why setting up Women4Oceans matters
Obituary
Reporting on the link between the distribution of indigenous languages and genetically different grizzly bears
Connected Life
Quietly vanishing • Ben Jacob
Saving the world one orchid at a time
Capturing a desert spectacle that only happens once in a generation
An interview with Kevin Martin, head of tree collections at Kew Gardens
Feature Articles
It's time to leave nature alone and plan a managed retreat
Kinship
One way or another caring will affect us all
Exploring the powerful link between caring and writing
Jolted back to full senses with the help of a barn owl
A new meditation on the land • Satish Kumar
We should all be taking care of what matters most
Wisdom and Wellbeing
Alessandro Vitale - aka Spicy Moustache - on how growing what he eats and wasting nothing connects him to nature
Exploring questions about human entanglement with the 'more-than-human'
There can be no real external changes without first making the internal ones needed
Art and Culture
A review of Ai Weiwei's new show at the Design Museum
Celebrating the Nature writer Willa Cather who deserves to be better know outside of her native America
Reviews
Review of The Earth Transformed: An Untold History
Review of Five Times Faster: Rethinking the Science, Economics, and Diplomacy of Climate Change
Review of Delusions of Gender: How Our Minds, Society, and Neurosexism Create Difference
Review of Taking Flight: The Evolutionary Story of Life on the Wing
Review of Wild Mind, Wild Earth: Our Place in the Sixth Extinction