The miracle of flight
Donate Now
Issue 339

Jul/Aug 2023
Finding Kinship
Reviews
The miracle of flight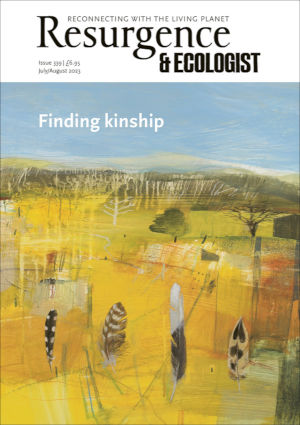 Cover: A Four Feather Walk, acrylic and mixed media on cradled panel, by Fiona Millais www.fionamillais.com
Tiffany Francis-Baker reviews Taking Flight: The Evolutionary Story of Life on The Wing by Lev Parikian
From where I write, I can see two red kites outside my window, drifting through the thermals of early spring in a grey and clouded sky. It is a common sight these days, but a century ago kites were almost extinct in the UK after decades of persecution. It is only through the miracle of conservation that I am now able to see them every day above my house in southeast England.
At this time of year they perform courtship displays, twisting and turning in the sky as they dance together and pass food between talons. High up in the air, they are suspended with a kind of magic that we see so often that we tend to overlook it: these birds are flying – an astounding thing to do – while we remain trapped on the ground, unable to join them without a turbojet and a long queue through customs.
This everyday magic is at the heart of Lev Parikian's new book Taking Flight. Through 14 species of bird, insect, bat and pterosaur, and spanning millions of years of evolutionary history, the author explores how the miracle of flight came to be, and how different ways of flying have been shaped by different environments and behaviours. Piecing the story together with fossils, field observations, pop science and academia, Parikian draws on his passion for ornithology to weave a narrative in his own unique way – with plenty of humour, cultural nods and perfectly placed anthropomorphism. He takes the complicated subject of wing-based anatomy and breaks it into amusing and digestible bites. He debunks myths (bumblebees are not too heavy to fly) and reflects on our clunky history of misinterpreting the natural world (barnacle geese do not hatch out of barnacles), and when in doubt, he knows to "just blame Pliny the Elder".
Although he writes about exotic penguins and hummingbirds, long-extinct pterodactyls and the regal albatross, it is Parikian's ability to illuminate the most everyday subject that means even common beetles and urban pigeons come alive on the page. I was amazed to learn that mayflies live far longer than a day, fruit flies have 17 muscles at the base of each wing, and bar-headed geese can fly almost as high as the Himalayas. It's a fun and fascinating ride, propelled by the author's ability to deliver even the driest science with wit and clarity. There is neither superiority nor ego in his writing – just a simple and infectious admiration for the natural world.
At face value, this book is a well-researched outline of how flight evolved in birds, insects and mammals, perfect for pop science lovers and amateur naturalists. But beneath the detail, Taking Flight is a reminder to remember to find the magic in the mundane. We are so bombarded with scientific breakthroughs, new inventions and mind-blowing feats of human ambition, that it is easy to overlook one of the simplest miracles we witness every day – to watch a bird lifting itself into the heavens and away from the chaos of life on Earth's surface.

Taking Flight: The Evolutionary Story of Life on The Wing by Lev Parikian. Elliott & Thompson, 2023. ISBN: 9781783967032