The Case for Sylvan Cities
Donate Now
Issue 341

Nov/Dec 2023
Navigating Climate Anxiety
Reviews
The Case for Sylvan Cities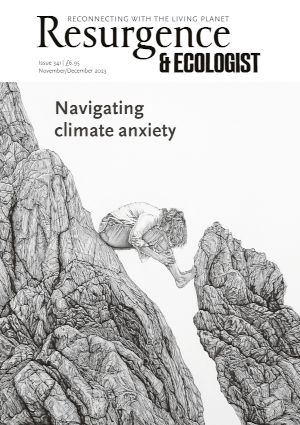 Cover: This Shifting Earth, 2021 by Kim Anderson www.kim-anderson.com.au
Biologist Colin reviews Tree Stories: How Trees Plant Our World and Connect Our Lives by Stefano Mancuso (translated by Gregory Conti)
Science should be taught like one of the human-ities – not simply as an apprenticeship for would-be researchers, but also as an aesthetic and spiritual pursuit for everyone: to show us all how wondrous the world really is and how privileged we are to be alive in it. This requires teachers who combine special expertise with broad vision – like the Italian botanist Stefano Mancuso.
Thus, in the fourth of his eight Tree Stories, Mancuso asks why the violins, violas and cellos that were made in and around the Lombardy town of Cremona in the 17th and 18th centuries by Antonio Stradivari, Nicolò Amati, ...
To read the rest of this article, please buy this issue, or join the Resurgence Trust. As a member you will receive access to the complete archive of magazines from May 1966.
If you are already a member, please Sign in