MOUNTAIN WOMEN
Donate Now
Issue 228

Jan/Feb 2005
Gaia and Global Change
Feature Articles
MOUNTAIN WOMEN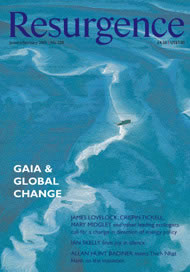 Cover: Nameless island near Eleuthera Island, Bahamas from Earthsong by Bernhard Edmaier,with text by Angelika Jung-Huttl, £35, Phaidon
A portrait of six women who embrace the mountains on a daily basis.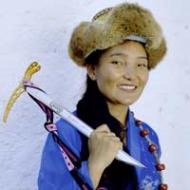 PEMBA DOMA THAKTOPA photo Sue Carpenter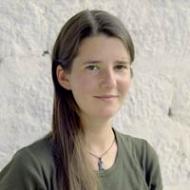 MIRANDA WHITCOMB photo Sue Carpenter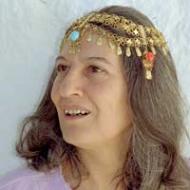 HURIO IBRAHIM AHMED photo Sue Carpenter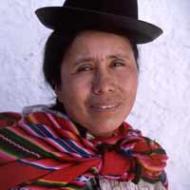 AQUILINA CHUQUICHAMBI photo Sue Carpenter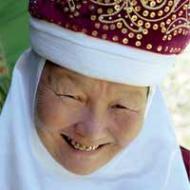 JOLDOSHEVA RAHIMA photo Sue Carpenter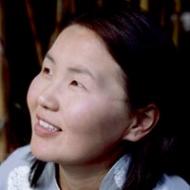 ULZIISAIKHAN SODOV photo Sue Carpenter
PEMBA DOMA THAKTOPA
a Sherpa, mountaineer and lodge keeper aged thirty-three, divides her time between the family guest lodge, Thamserku View, in Namche Bazaar at 3,445 metres, and Kathmandu, Nepal, where she runs a trekking company with her fiancé. They have a two-year-old daughter.
In Sherpa culture, women are considered stronger than the men. Women work more and have more power - everything is in women's hands. We respect our father and brothers, but in the Khumbu Valley, women control the money. In the tourist season, I live with my stepmother and half-sister at the lodge. I get up at four o'clock in the morning and work solidly, cooking, accounting, organising, until midnight. I also lead treks and mountaineering expeditions in Nepal and Tibet.
I speak nine languages. I learnt French in Paris as an exchange student, and German after living with my sister whose husband is German. I also speak English, Italian, Tibetan, Hindi, Nepali, Sherpa and a little Spanish.
I've climbed Everest twice - once from the Tibetan side and then later from the south side. When I was young, I used to walk with my grandfather in the hills at 5,000 metres. It was my dream to climb higher. I used savings and sold jewellery and handicrafts in Europe to raise US$22,000 for my first climb. All went well as far as the north side base camp. But when the leader set off for the summit, he told me not to go. I was so angry that I went by myself. I had footsteps to follow all the way.
Everest is our Goddess Mother who we respect. When I set out to climb Everest, I talked to her first. I said, "I am sorry for what I am going to do, tread on you, and I hope you don't mind." I bowed, gave an offering, took a prayer flag and khatha (white scarf). The mountains are my friends. In the mountains I'm proud, the air is fresh, I can talk with nature.
For further information visit www.climbhighhimalaya.com .
MIRANDA WHITCOMB
is thirty-two and lives in Aviemore, Scotland. She works as a recreation ranger for the Forestry Commission based at Glenmore in the Cairngorms. She is single.
Several generations ago my family were economic migrants who left the Highlands in search of work in places like Glasgow. It's only in the last few decades, with a favourable change in the economic situation in rural Scotland, that people like me can return to live in the Highlands.
I love the open mountains - you can't build on them, so those views will always be there. The people, the attitudes - everybody knows each other and we are more accepting of what life brings. We think differently from lowland women. People from cities have everything on their doorstep. We have to be more resourceful and don't care if the television reception isn't right. We're also better at travelling on single-track roads!
I live in a two-bedroom, semi-detached bungalow, with my cat. I get up ten minutes before I have to be out of the door. I work from 8.30 in the morning to 5.30 in the evening for the Forestry Commission. At home I also do environmental interpreting and website writing.
There's absolutely nothing I dislike about the mountains. My only concerns are over-development in the Strathspey area, which has pushed house prices sky-high, and re-development of Aviemore - it used to have an ice rink; now it seems all supermarkets and holiday homes.
HURIO IBRAHIM AHMED
is a fifty-six-year-old Kurd who runs a media company in Suleimaniyah, Iraqi Kurdistan. Married to the leader of the Patriotic Union of Kurdistan, Jelal Talabani, she has two sons, aged thirty and twenty-five. She was interviewed before the Iraq conflict.
To me the mountains are like the warm arms of a mother. If we were in danger we ran to them. We survived because of them. I lived in the mountains with my husband from 1979 to 1991, during the fight between the Iraqis and Kurds. I just went to see what the situation was; when I saw the suffering, I had to stay.
I have climbed many mountains, scrambling up rocky trails, and when I couldn't climb, the men would pull me up with their belts. We built houses from mud, stones and leaves, or canvas. When I was younger, if my pillow was changed, I couldn't sleep; in the mountains I slept on stones, with my shoes on.
I established a small independent Kurdish media company, running a television station and publishing books and magazines. I also started Kurdistan Save the Children with friends.
In Suleimaniyah, women were always strong historically. Habsa Khan went into the market and threw off her veil, and encouraged women to go to schools. In Suleimaniyah, whether educated or not, women are equal and men treat them as such. My chief concern is the destruction of our culture. My wish is to be able to say, "I am from Kurdistan and not Iraq."
AQUILINA CHUQUICHAMBI
Chuquichambi is a fifty-three-year-old Aymara Indian. She makes woollen handicrafts and runs a women's centre in Curahuara de Carangas, Bolivia, at 4,500 metres. She is married, with two daughters and a son.
I live with my husband and younger daughter in a small house - we all sleep in the same room - with a little shop selling bread and handicrafts from alpaca and llama wool. I rise at six o'clock in the morning. My husband bakes bread. I fry potatoes for breakfast and then I knit or have meetings. After lunch I knit and keep shop. We make more money from the bread than woollen produce, which brings in only about US$2.50 a day.
I wear a tiered, pleated skirt and four layers of petticoat, with a multicoloured woven shawl and a bowler hat. Working with the animals, I wear a simpler woollen skirt with pumps or sandals made from tyres. It is hard when the wind blows and it's dusty, or when it's bitterly cold and my feet are frozen. But I'm happy.
JOLDOSHEVA RAHIMA
aged fifty-four, runs a women's handicrafts centre in Sultan, Chui, Kyrgyzstan, at 2,500 metres, where temperatures range from minus thirty-five to plus forty degrees centigrade. She is widowed, with three children and six grandchildren.
I migrated to the mountains from a town - it's unusual this way, because it's harder work, but I love it here. I live in a basic home with my middle son, his wife and two children. We have no hot water or central heating - we have a bathing cabin with an electric heater, and wood-fired stoves.
When land was privatised, the state gave everyone half a hectare, so with all the children we received four hectares. We have three cows, ten sheep, thirty turkeys, twenty chickens, twenty geese and thirty hybrid duck-turkeys. I get up at 5.45 in the morning and work until midnight, running a handicrafts centre, making wool and felt products. I tend the land (we grow corn, sunflower, beetroot, safflower, potatoes, carrots, peppers and onions). I cook and look after the children.
I love the mountain weather, even when it's cold. I like the tranquillity, but the remoteness, inadequate roads and communications, lack of education and amenities present problems. In the mountains, people are very simple in their relationships - they are hospitable and trust and help each other.
ULZIISAIKHAN SODOV
aged twenty-eight, is a teacher, living at 3,000 metres in and around Tsagaan Nuur ('White Lake'), Hovsgul, Mongolia, where temperatures range from minus forty-eight to plus forty-five degrees centigrade. She is single.
We are nomadic reindeer people. We are strong in mind and body; we never complain. In spring and summer we live in a ger (a traditional round felt tent), and in autumn and winter we live in a warm house. I live with my parents, three sisters and one brother (I also have two other married sisters and a brother). The government wants to increase the population, so you get a medal if you have five children, and another if you have eight. My mother has two medals.
Education was previously limited to men; now girls go to school up to the age of eighteen and have professions. When Mongolia became democratic, life got worse - we had to pay for education. I want to study more but I cannot afford it; I gave my earnings to my two younger sisters to go to university.
I get up at seven in the morning and teach in town, English for beginners and law for women. I earn US$45 a month, which is not enough, so in summer I work in tourism too. I go to bed at ten o'clock. In winter, I wear a wool del (traditional coat), lambskin-lined dress, reindeer-skin boots, quilted trousers, camel's wool or animal-skin jackets.
I am so happy here. The air is so fresh and it's so quiet. But it is cold. My dream is to learn about other cultures, and to get a good job so I can set up an organisation to help reindeer people. If their lives grow then my life will grow.
These women were photographed and interviewed at the Celebrating Mountain Women festival in Bhutan, October 2002.