Gaia and Global Change
Issue
228

• January/February 2005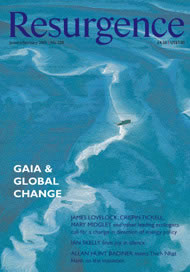 Buy a copy of this issue
Become a member and receive 6 issues a year
Contents
Key
Free for all to view
Free for members to view
Not available
Welcome
Feature Articles
Urgent action is required to deal with the emergency of global warming.
Ecosystem biodiversity gives rise to healthier, more robust ecological communities which are more effective at resisting climate change.
Green Mountain on Ascension Island offers a challenge to traditional notions of nature conservation.
Climate change will force us to rethink the fundamental precepts on which we base our societies.
It is time to acknowledge our interdependence, and to see ourselves as part of the Gaian community.
New ways to measure human wellbeing.
Silence has the ability to centre us and connect us with the essential harmony of the universe.
How to practise 'Spanish yoga'.
Bhajju Shyam, a Gond artist, delights us with his visual interpretation of London.
Interspecies Communication is vital for the wellbeing of all.
Repaying the Columbus debt.
A portrait of six women who embrace the mountains on a daily basis.
Unity and diversity are two sides of the same coin.
Regulars
Frontline
Portlanders are transforming their neighbourhoods.
Sound is a spiritually invigorating force.
A unique experiment in ecosystem education.
Reviews
Review of In My Own Words
Review of Recoding Nature
Review of Ecological Medicine
Review of Worldly Wonder
Review of The Secret Language of Children
Review of How to Change the World
Review of Heavy Water and Half Life
Review of Powerdown
Review of The Insanity of Empire