A NEW FRONT
Donate Now
Issue 223

Mar/Apr 2004
Art for Earth's Sake
Feature Articles
A NEW FRONT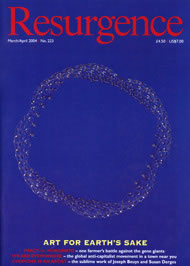 Cover: Sound, Water and Light, Photograph: Susan Derges
For art to be relevant, artists must address the social and spiritual issues of our time.
This article is only available as part of the PDF of the whole issue.
To read this article, please buy this issue, or join the Resurgence Trust. As a member you will receive access to the complete archive of magazines from May 1966.
Join Us
If you are already a member, please Sign in