Art for Earth's Sake
Issue
223

• March/April 2004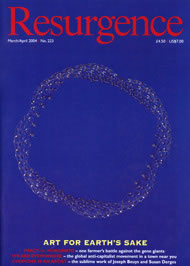 Buy a copy of this issue
Become a member and receive 6 issues a year
Contents
Key
Free for all to view
Free for members to view
Not available
Welcome
Feature Articles
Another world is possible and we are building it.
A story of the struggle against Monsanto and the corporate takeover of our genetic inheritance.
Integrating art, land and life.
For art to be relevant, artists must address the social and spiritual issues of our time.
Artists can reinvigorate local communities.
Joseph Beuys' art is a counterpoint to consumerism.
The landscape at night is a huge darkroom.
A life of art is a life of questions about community, culture and cosmos.
"Life is just a brief emergence from the great sea of time" says video artist, Bill Viola.
A sense of place is integral to the art of Kurt Jackson.
The work of Yuri Ivanchenko invites us to share the excitement and beauty of nature.
Pushing the boundaries of art.
Outsider art is challenging and visionary
Local food is on our doorstep
Frontline
An educational experiment comes of age.
How art can help to heal personal trauma.
Regulars
Reviews
Review of Ted Hughes: Collected Poems
Review of Dwellings: The Vernacular House Worldwide and Cosmic Architecture in India
Review of A Pair of Cranks
Review of Another Kind of Space
Review of Cradle to Cradle
Review of breviews The Essential David Bohm
Review of Foodwise
Review of Bringing the Food Economy Home
Review of Living the Magical Life