Decentralise Energy
Donate Now
Issue 244

Sep/Oct 2007
The Green Imperative
Green Imperatives
Decentralise Energy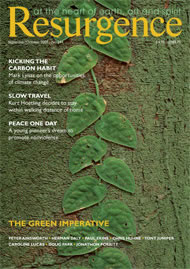 Cover: Aroid 1 Panama Rainforest Photograph: Art Wolfe
Chris Huhne argues that climate change is the greatest challenge to policy-makers, not only in the UK, but internationally. To reduce UK carbon emissions by 80% before 2050, a step-change in behaviour is required. Addressing the current taxation regime could dramatically accelerate that process.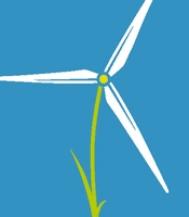 Illustration: Noma
EMISSIONS FROM ROAD transport and aviation are growing at unsustainable rates, our homes burn energy like fifty-pound notes, and our power generation is grossly inefficient. We need a fundamental change of approach that will see government tackle problems head on rather than relying on rhetoric.
The rise in CO2 emissions should be no surprise, yet Gordon Brown has allowed green taxes to fall – as a proportion of GDP – to their lowest level since Margaret Thatcher was in power in 1989. In effect, they are down from 3.6% of GDP in 1999 to just 2.9% of GDP in 2005. Sadly, the 2007 budget has not reversed this trend. By contrast, the Liberal Democrats have put forward plans for greener taxes that would be offset by income tax cuts. Our proposed Green Tax Switch would see taxes shifted from things such as work to things such as pollution.
We would combine cuts in personal taxation with increases in Vehicle Excise Duty on the purchase of new cars. Gas-guzzling vehicles would pay significantly more than smaller vehicles with lower emissions, with a new top rate of £2,000 a year for the most polluting vehicles. Research by the Energy Saving Trust shows that these incentives would encourage two-thirds of car buyers to opt for lower-emitting vehicles, and so we would gradually change our car stock. By introducing this policy we could create a significant step-change towards more sustainable behaviour.
Those who choose to purchase the most polluting vehicles must accept that there is a significant environmental cost, but this policy would not prevent people from purchasing any particular type of vehicle. For example, there are working farm vehicles, luxury saloons and sports cars available that produce less than 225 grams per kilometre of CO2 and would therefore not pay the top rate. Car manufacturers would bring more models into the lower bands. In the longer run, it is crucial that the EU steadily reduces the permitted carbon emissions of vehicles on sale. Fuel duty must also be maintained in real terms, rising in line with inflation.
The Liberal Democrats have also put forward plans for aviation. We would change the basis of tax from passengers to emissions. As a result, we would reward full flights and penalise half-empty ones. Although there are limits on what can be done without merely diverting flights to nearby countries, we would also press hard for an EU minimum rate of kerosene tax and for the inclusion of aviation in the EU's Emissions Trading Scheme.
Combating climate change must also start in our homes, where 27% of the UK's carbon emissions is produced. This is twice as much carbon dioxide as our cars produce, and is extraordinarily wasteful. If we cut our carbon emissions to Swedish levels, the average household energy bill would be £385 less each year. This comparison shows how incredibly wasteful we are: in January the average temperature in Sweden is seven degrees Celsius below that of the UK, yet energy bills there are far lower.
The missing ingredient is real political will, particularly in upgrading our existing housing stock. Three-quarters of the homes that will be standing in 2050 have already been built, but at the present rate of progress it would take 125 years to upgrade them even to current thermal efficiency standards, let alone to low- or zero-carbon status.
The first problem is that householders are not convinced that insulation packages can really work. The second problem is that householders do not believe they can rely on real savings. The Liberal Democrats propose specially designed packages that would be properly testable and would deliver real energy cuts, and there would be tough penalties on contractors who did not deliver.
The third problem is finance. Under the Liberal Democrat proposals there would be a new loan scheme paid through quarterly energy bills: people would pay back the cost of the energy mortgage from the savings on their energy consumption.
The fourth problem is the incentives of the energy companies: at present, the more energy they sell, the more money they make. Putting in place a regulatory allocation would mean that they would have to buy permits to sell more than in the previous year. If they sold less, they could sell their surplus. In this way, they would maximise their profit by selling less energy.
The government has a better record on aiming for zero-carbon homes, but it is still far from ambitious. The GreenHouse standard for new homes – based on Germany's PassivHaus – is based on tried and tested technology. All homes should be built to this standard by 2011 – not the government's 2016 – cutting energy costs by far more than the extra cost of construction. This would increase the number of affordable homes for young couples to get on the housing ladder.
BRITAIN IS, SADLY, lagging behind on climate change, but the Liberal Democrats' proposals – the Green Tax Switch to tackle transport, and the WarmHomes package for our homes – would allow us to take an international lead. But we also need to renew our international commitment. We need firm agreement on how much carbon we can acceptably emit and how much climate change we can tolerate: the only morally defensible position is that we ultimately arrive at a situation where each global citizen is able to emit an equal and sustainable amount of carbon. It would be criminally irresponsible to make short-term decisions which have potentially catastrophic consequences for future generations.
Life will change as a result of climate change and, in turn, our lifestyles will change. The political agenda has shifted to a new 'politics of greenery', which has even seen Australian Prime Minister John Howard – who refused to sign the Kyoto protocol – become the first leader to ban incandescent light bulbs. The challenge for political parties is to be brave enough to implement the policies that will allow us to achieve this.