Education as if People and Planet Matter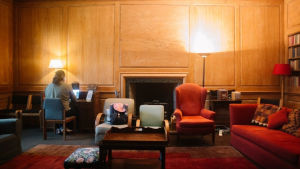 Congratulations to the winners of the Schumacher Essay Competition.
The results are:
1st - Matt Carmichael, a secondary school teacher from Leeds who wrote about the lessons wasps have to teach us. Read the essay.
2nd - Deepa Maturi, a lawyer from Indianapolis. Read the essay.
3rd - Guy Dauncey, an ex Totnesian who now lives on the coast of Vancouver Island in Canada. Read the essay.
More information about the winners
Schumacher College launched the writing competition 'Education as if People and Planet Matter' in 2021 to celebrate the college's 30th anniversary. The competition was launched in collaboration with Resurgence & Ecologist magazine.
Today's education system presents young people with a world still dominated by materialism, consumerism and the heedless exploitation of both people and the planet. It's hopelessly 'unfit for purpose' as we wrestle with today's converging crises of the Climate Emergency, ecological collapse, racial inequality and worsening social injustice.
Schumacher College has pioneered and promoted a very different paradigm of values-based, holistic education over the past 30 years.
To celebrate the 30th anniversary of the founding of Schumacher College, we are inviting people to write an essay under the title 'Education as if People and Planet Matter'. The essay should be addressed to general readers, and not to either education or sustainability specialists as such.
Entry Fee £10 (or $15.00 or €15.00)
The winner will receive a £5,000 cash prize, with an opportunity to present their essay at the anniversary event at Schumacher College in autumn 2021. A £2,000 cash prize will go to the second place, and £1,000 to the third runner-up. The winner and two runners-up will receive their awards at the anniversary event.
Rules
Open to all nationalities and to anyone aged 18 and above.
A minimum of 1,000 words and maximum of 1,500 words.
Submissions must be standalone and cannot be extracts from a larger piece.
Only one submission per person.
Entries must include a fee of £10 (or 15 or €15.00).
Key dates
The essay competition will open on 01 Mar 2021.
The essay competition will close on 01 Jul 2021.
Winners will be announced on the 01 Oct 2021 on the Schumacher College website.
Here are details on how to enter, together with the full terms and conditions