Natural Spirituality
Issue 186 • January/February 1998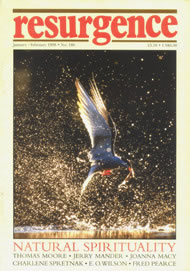 Buy a copy of this issue
Become a member and receive 6 issues a year
Contents
Key
Free for all to view
Free for members to view
Not available
Feature Articles
Speed gives the illusion of power and pleasure. But it also brings environmental destruction.
The machine is adapted for humans and humans are adapted to the machine. It is a human-machine merger.
Communism or capitalism, Labour or Conservative, democracy or dictatorship, republicanism or monarchy, rule by any name, we are ruled by modernity.
Population, pollution and consumption are the problems. Transformation is the solution.
If homo sapiens goes the way of the dinosaur, we have only ourselves to blame.
Oil drilling on land that threatens an indigenous people with cultural death and contributes to environmental destruction is illegal.
Genetic engineering is justified as a humane technique that feeds more people with better food. Nothing could be further from the truth.
GAIA'S GUARDIAN ANGEL • Fred Pearce
James Lovelock, inventor of the Gaia hypothesis has been awarded the Blue Planet prize worth fifty million yen.
After the agricultural and industrial revolutions we are now at a point of ecological revolution.
What reason could be more compelling for honouring the natural world than to know that it is the prime source of our spirituality.
Buddhism is not something to believe in, but something to do.
THE ART OF ATONEMENT • Peter Abbs
The artist Andrzej Jackowski transforms objects of everyday life into a spiritual reality.
The so-called "Earth Art" may be no more than imposition of human will upon nature.
From a participative point of view we see the world as a creative dance of mind and cosmos.
The death of Princess Diana evoked unparalleled public grief. What can it all mean?
The story of Coin Street is an urban fairy-tale. Against all odds, a local community saved itself from a faceless office development.
Regulars
The Occasional Didymus

• John Moat

Being out of England in golden September is instant exile.

Stop lorries from using our country lanes, save water and use solar power.

"I didn't get the money, but I had the pleasure."

Human community is a network of conversations.
Letters to the Editors
Reviews
CORPORATIONS ATTACK ENVIRONMENTALISTS • David Edwards
Review of sounds the alarm.
BANK AGAINST THE POOR, • Ann Pettifor
Review of goes against the World Bank.
Review of reviews the work of Greenpeace.
Review of exposes the poisoning of the public.
Review of traces the human story.
Review of leaps into the new paradigm
Review of celebrates the unfolding universe.
A NON RELIGIOUS WAY • Don Cupitt
Review of looks at Buddhism in the West.
Review of favours traditional thought.
Review of searches for economic democracy.
Review of appreciates a storyteller.
Review of Looks at how we die.