Nature, Science and Society
Issue
190

• September/October 1998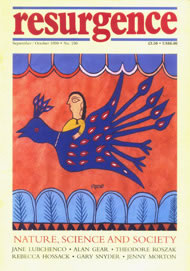 Buy a copy of this issue
Become a member and receive 6 issues a year
Contents
Key
Free for all to view
Free for members to view
Not available
Feature Articles
The aging population is not a problem, it is the true wealth of nations.
The financial institutions earn more from pension funds than the old age pensioners!
The publication of Factor Four - Doubling Wealth, Halving Resource Use was seen by many as heralding a new direction for technological progress. But can clean, green technology produce a genuinely ecological lifestyle? Amory Lovins, one of the book's authors, co-founder of the Rocky Mountain Insatiate, and a pioneer of the concept of 'soft energy', talks to David Nicholson-Lord.
Science and spirituality are two aspects of a single reality. There is no antagonism between them.
The British Government is proposing to build four million new houses by 2010! 'Co-housing' is a way of moving from house-building to community-building.
Those deconstructionists who believe that nature is merely a 'social construction' are deluding themselves.
Is science prepared to meet the real challenges facing the future? The answer is 'No.' Humanity is entering the century of the environment. A new contract is needed between science and society.
The women of Janakpur may be poor and illiterate, but they are great artists.
The wild landscapes of Dartmoor, the Yorkshire Dales and west coast of Scotland have inspired the work of Michael Honnor.
The visitors to the restored garden of Heligan feel part of the whole and not processed through the ticket office and round the garden. There is an exchange of intimacy.
Wilderness in Britain has been pushed into a corner.
When prayer occurs our soul is revitalised; the garden is watered.
I, my husband and our seven children live on an eight-acre smallholding on the Scilly Isles. We grow most of our food and educate our children in a small school which we run on our land.'
The idea of cheap and easy shopping in superstores is an illusion.
The least we can learn from the BSE catastrophe is to switch from agribusiness to agriculture and grow food organically.
Paul Shepherd rejected the 'human-centred' notions of modern society.
This Columbian example of true sustainability shows a way to reforest the world.
Reviews
Review of Explores the new worldview for an ecologically sustainable future in a video based on Fritjof Capra's book - The Turning Point.
Review of Art: For Whom and For What? - Brian Keeble
Review of The New Golden Rule - Amitai Etzioni
Review of Designing Ecological Settlements - Margrit And Declan Kennedy (eds)
Review of Sacred Mountains: Ancient Wisdom and Modern Meaning - Adrian Cooper
Review of Engaged Buddhism: Buddhist Liberation Movements in Asia - Christopher s. Queen and Sallie B. King
Review of Valuing Nature: Economics, Ethics and Environment - John Foster (ed)
Review of Reforming Energy: Sustainable Futures and Global Labour - Peter Colley
Review of Farms of Tomorrow Revisited - Trauger Grohe and Steven Mcfadden
Review of Home Altars of Mexico - Dana Salvo with R. Gutierrez, S. Scalora and W. Beezley
Review of The Global Trap: Globalization and the Assault on Democracy and Prosperity - Hans-Peter Martin and Harald Schumann
Review of Sacred Gardens - Roni Jay
Review of The Spirit of Science: from Experiment to Experience - David Lorimer (ed)
Review of The Political Economy of Social Credit and Guild Socialism - Frances Hutchinson and Brian Burkitt
Review of In Search of Nature - E.O. Wilson
Review of Tribes - Art Wolfe