Deterrence - Nature - Wild
Issue 193 • March/April 1999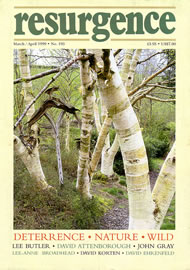 Buy a copy of this issue
Become a member and receive 6 issues a year
Contents
Key
Free for all to view
Free for members to view
Not available
Welcome
Feature Articles
Deterrence is a dialogue of the blind with the deaf.
For many people David Attenborough is the public face of natural history.
Reducing consumption and human numbers is a priority.
We've had twenty-five years of environmental agreements and the world is getting worse.
WHO WILL FEED THE WORLD • Sarah Sexton
First chemical fertilizers, then the Green Revolution, and now genetic engineering promises to feed the world.
Sustainable consumption is a poverty issue, an efficiency issue and a moral issue.
The word "obsolete" comes much too easily to our tongues.
Contrary to its claims, capitalism is the mortal enemy of democracy and the market.
OR A PRIVATE LANGUAGE • Maurice Ash
Language is social. Its meanings are never fixed. It can never be reduced to tables, formulas or slogans.
Basic needs are for the poor. No one ever thinks of offering such a formula to the rich.
In the foothills of Dartmoor, art, science and nature meet.
ARTIST OF THE INTERIOR • Hazel Leslie
The art of Evelyn Williams reveals the deepest human feelings.
Julia Hill has been living up a tree for the past twelve months.
CONQUERING CORRUPTION • Bunker Roy
In rural Rajasthan ordinary people forced village officials to surrender money obtained by corrupt means.
The study of science requires an understanding of quality as well as quantity.
The Happy Pear Project in the village of Hartland is an initiative in rural economy.
Near the City of Gloucester, Jim Wallis has built a house which is beautiful, sustainable and inexpensive.
Regulars
Field Days - an anthology of Poetry
Reviews
FAIR FIELDS
Review of Scottish Ground
Review of The Inner Christ
Review of The Calendar
PSYCHOLOGY BEYOND SELF • Maura Sills
Review of The Resonance of Emptiness
A SPIRITUAL WARRIOR • John Lane
Review of Loyalty Demands Dissent
Review of City Fields, Country Gardens - Allotment Essays
Review of Planting by the Moon, a Gardener's Calendar 1999