special crafts issue: A Tale of Tapestry
Issue 194 • May/June 1999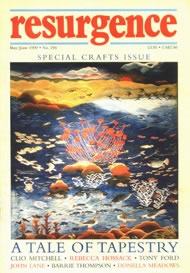 Buy a copy of this issue
Become a member and receive 6 issues a year
Contents
Key
Free for all to view
Free for members to view
Not available
Feature Articles
Crafts enhance creativity, beauty and the imagination.
OBJECTS OF ENCHANTMENT • John Lane
We know ourselves from the things we have made.
HAND-WORK AT THE END OF THE CENTURY • Tony Ford
Handmade objects have a human warmth which industry will never reproduce.
At the Wissa Wassef Art School in Egypt vibrant rhythms are woven into a dance of life.
The pottery of Ann Stokes is infused with a sense of lightness and play.
THE RETURN OF APPRENTICESHIP • Barrie Thompson
A conversation with Sophie Poklewski Koziell
Interview by Satish Kumar
WHAT MY GARDEN MEANS TO ME • Anita Roddick
I've never painted, never written, never taken photos: the garden was something I created.
In Japan the placement of stones is considered to be the central act of gardening.
Breadmaking is an art.
Frontline
We must fight to keep our public footpaths.
In Liverpool, Land Life Trust is bringing wilderness close to people.
It's better to unwind doing something active.
To understand the art of Peter Baldwin we need to engage the active eye.
Science
Science can never be value-free.
Economy
Free markets and first-class travel are the instruments of a new oppression.
Don't let Coke take over the world.
Adbusters magazine is challenging the advertising culture.
Regulars
The Occasional Didymus

• John Moat
Letters to the Editors
Reviews
CULTIVATING A GARDEN • John Lane
OLD HISTORY, NEW TIME • Mary Tasker
Review of The Wealth and Poverty of Nations and The Information Age, Economy, Society and Culture Vol. III
Review of Raga Mala: the autobiography of Ravi Shankar
Review of Gaia's Body
Review of The Modern Antiquarian
LEARNING THROUGH ART • Jenny Brain
Review of Art: The Basis of Education
Review of Manual 2000 - Life Choices for the Future You Want