Myth of Progress
Issue
196

• September/October 1999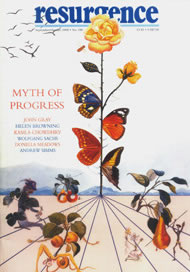 Buy a copy of this issue
Become a member and receive 6 issues a year
Contents
Key
Free for all to view
Free for members to view
Not available
Welcome
Feature Articles
Seed companies are using poverty as an excuse to impose control on world food.
If we redesign nature to fit human wishes, we risk making it a mirror of our limitations.
Poverty of time degrades the wealth of goods.
The Frontyard is filled with people of power and the Backyard embodies the rural realities of India
Visions and concerns.
Readings
Some clingwraps may be carrying toxic chemicals.
Consumerism is a culture of living without responsibility.
Nuclear weapons are a useless burden
Population
Optimum population has two factors: people and land; both must be considered together.
Economy
Let us free money from the banks.
Science
Is science the answer to safe food?
Frontline
The land is not ours. We should leave the land in good heart.
Working with people
Celebrating those who are working for a nuclear-free future.
Timeless Wisdom
The profound insight of Aldo Leopold has stood the test of time.
The philosophy of Spinoza is rooted in the realization of wholeness and harmony.
The Druids were "the wise ones of the oak".
The Arts
Images are doorways to heightened perception of the world.
The paintings of Shafique Uddin evoke an intimate kinship between all creatures.
Regulars
Reviews
Review of Ecological Education in Action, and Sustainable Development - First Annual Report
Review of Beyond the Dependency Culture, and Transforming Economic Life
Review of Bapu Kuti: Journeys in Rediscovery of Gandhi
Review of The Economic Horror
Review of Wormholes
Review of extract from Wormholes
Review of Coast, and Countryside
Review of Five Centuries of Sienese Painting
Review of Defending Middle-Earth, and Lost Civilizations of the Stone Age
Review of The McDonaldization of Society, an McDonaldization Revisited
Review of Arch, and Honest Labelling
Review of Local Food for Local People
Review of Off the Map, Elements of Refusal and Technology as Magic