Transport
Issue
197

• November/December 1999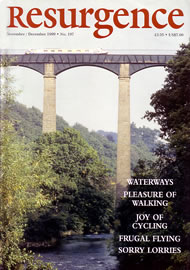 Buy a copy of this issue
Become a member and receive 6 issues a year
Contents
Key
Free for all to view
Free for members to view
Not available
Welcome
Speed is not the solution.
Feature Articles
There is walking in Paradise and also there is Paradise in walking.
Cycling brings health and independence.
Canals are some of Britain's most important assets.
Heavy goods go lightly on water.
Transport 2000 has transformed our thinking about road-building.
Writers and poets praise trains.
Cars should not pollute us to death.
The future of towns is at the root of contemporary debates about travel and transport.
People are taking action to make mobility sustainable.
Continued growth of aviation is unsustainable.
Lorries are a significant source of air and noise pollution.
*No blurb
Economy
The World Trade Organisation faces new challenges from the South.
Should the fragile temple of the banking system fall, the world would never be the same again.
Agriculture
Terminator Technology represents the ultimate threat to seed diversity.
Why do we pay so little to farmers? Why do they keep farming?
Frontline
A group in Bristol is asking questions about urban planning.
The Arts
The art of Dora Holzhandler celebrates earth, heaven and humanity.
Furniture maker, John Makepeace, is reviving the nineteenth-century Arts and Crafts philosophy.
Timeless Wisdom
We are all acorns. We are all capable of finding mighty oaks within ourselves.
Regulars
Reviews
Review of Women Pioneers for the Environment
Review of River of Colour: The India of Raghubir Singh and India: Don McCullin
Review of Sight and Sensibility: the Ecopsychology of Perception
Review of The Crafts in Britain in the 20th Century
Review of The Post-Corporate World; Life after Capitalism
Review of The South West Coast Path National Trail - a History and The South West Coast Path - 1999 Guide
Review of Which World? Global Destinies, Regional Choices
Review of Voltaire's Bastards: The Dictatorship of Reason
Review of The Bug and You and The Bug and Me
Review of Global Healing: essays and interviews
Review of Green Guide, London edition