You are, therefore I am
Issue 199 • March/April 2000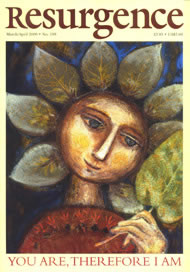 Buy a copy of this issue
Become a member and receive 6 issues a year
Contents
Key
Free for all to view
Free for members to view
Not available
Welcome
Feature Articles
We seem to be moving toward a more integral world-view.
Dualistic knowledge is inherently flawed.
All and everything exist in an eternal relationship between species.
Fifty per cent of the total land and water areas of the Earth should be designated wilderness areas.
If peace is to be given a chance, it must be given a bank.
Social and environmental issues are central to the world's economic health.
Light pollution is killing our nights.
There is no excuse for poisoning flowers.
The production and distribution of food should be in the hands of local communities.
While Dome-Time dominates our minds, let us reflect on Cow-Time.
New Dimensions presents a rounded view of deep ecology.
The National Trust needs to put environmental issues at the top of its agenda.
New Ideas
Let us invite the UN to declare the twenty-first century as the century of restoring the Earth.
The Arts
The paintings of Jeanine de Waele.
Tino Rawnsley is a great bodger.
Frontline
Nature is the greatest teacher in nursery schools in Scandinavia.
A new Centre is being established to integrate earth and imagination.
A creative response to poverty
Regulars
The Occasional Didymus

• John Moat
Letters to the Editors
Reviews
Review of The Buena Vista Social Club
TECHNOLOGICAL PROGRESS • Mary Tasker
Review of Techgnosis: Myth, Magic and Mysticism in the Age of Information
Review of Environmental Modernisation
Review of * Reviews various books on Genetic Engineering
Review of The New Foods Guide, The Meat Business: Devouring a Hungry Planet
Review of Dogs that know when their Owners are Coming Home
PHOTOGRAPHIC VISION • John Lane
Review of Brandt: The photography
Review of A Jerk on One End
Review of Inequity in the Global Village Ecotourism and Sustainable Development With Good Intentions
Review of In the Wake of the Affluent Society
Review of The Cost of Living