It is a gift to be simple
Issue 203 • November/December 2000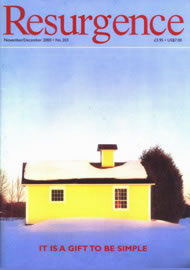 Buy a copy of this issue
Become a member and receive 6 issues a year
Contents
Key
Free for all to view
Free for members to view
Not available
Welcome
Feature Articles
The sixteenth-century Japanese tea master refined the culture of wabi-sabi.
How are we to live?
Thomas Merton had the knack of presenting things in simple forms.
Once our physical needs are satisfied what further use have we of nature?
DECLARATION OF DEPENDENCE • Satish Kumar
We depend on the Earth.
Sustainable use of inshore waters will bring security to coastal communities.
THE CHALLENGE OF OUR TIME • Fritjof Capra
A sustainable society can only be built on the foundations of ecoliteracy and ecodesign.
The knowledge of people of the Amazon can guide Brazil towards ecologically appropriate development.
Oasis gardens in the Sinai desert reflect the Bedouin people's love for their land.
Three friends in Australia set off to walk to the headwaters of a little creek.
We refuse to eat food from factories.
HERBICIDE, PESTICIDE ? SUICIDE • Roger Scruton
Seed merchants prosper and farmers wither.
A funeral guide.
How to protest with loving-kindness.
The Arts
IN THE GARDEN OF GAIA • Philip Vann
The sculptures of Giles Kent are an embodiment of simplicity and serenity.
The painter, Harold Hitchcock, is enraptured by the movement of light.
Frontline
Resurgence marks twenty-five years of editorship.
Regenerating barren land in Pakistan.
Nature gives us colour, synthetic dyes give us problems.
Urban farming in Shanghai.
Sri Lankan court blocks phosphate development.
Regulars
The Occasional Didymus

• John Moat
Magazines & Publishers
An occasional magazine blending art with ecology and technology.
Books with quality of craftsmanship and delicate charm.
Reviews
Review of Small is Beautiful
SCIENCE IN SERVITUDE • Mary Tasker
Review of Playing Safe: Science and the Environment
Review of Building the 21st-Century Home London, Pathways to the Future
Review of Democracy at Risk
SCIENTIFIC SPIRITUALITY • Chris Clarke
Review of SQ - Spiritual Intelligence
Review of The Time of Trees - A Photographic Essay
Review of The Pool of Memory
Review of The Subsistence Perspective: Beyond the Globalised Economy
Review of The Blackwinged Night
Review of Traditional Pottery of India The Golden Age of Irish Art
Review of Verses from the Center
Review of Landscape with Portraits
Review of How the Whale Became
Review of The Ecology of Health
Review of The Tribal Arts of Africa Chokwe!
Review of Cutting Your Car Use