Art Makes Life
Issue
207

• July/August 2001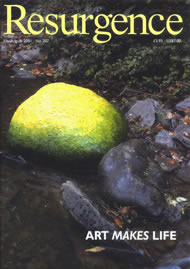 Buy a copy of this issue
Become a member and receive 6 issues a year
Contents
Key
Free for all to view
Free for members to view
Not available
Welcome
Economics
Can civilization survive with the commercial sphere as the primary mediator of human life?
Complementary currencies can lead us towards a more equitable future.
Moving from a fossilized economy to a solar economy.
Business
Sustainable development is not an option; it is the only option.
Science
The wedding of alchemy and ecology.
Food
The act of breadmaking connects us to our ecological roots.
Schumacher Lecture
We can all be designers using the natural world as our template.
Architecture
A building without beauty is not architecture; it is a construction.
The Arts
Andy Goldsworthy's work is entwined with the natural world.
Gardeners are the painters and sculptors of the landscape.
Reaching the end is less important than the journey.
Carole Berman's art is a triumph of poetic feeling.
Converging towards a doorway to freedom.
India Diary
The Jain temples at Mount Abu.
Education
The small school movement in America.
Frontline
Swadhyaya devotees transform communities.
Producer responsibility taken to heart.
Homoeopathy could be the answer.
A Jewish prayer group mourns for Gaia.
Regulars
Reviews
Review of The Illustrated Rumi
Review of The Path of Emancipation
Review of Contraction and Convergence
Review of William Blake: The Complete Illuminated Books/William Blake: Chambers of Imagination
Review of The Journey of Thomas the Rhymer
Review of The Story of Yew
Review of The Little Earth Book
Review of Green Politics and Neo-Liberalism