Kamasutra: The Art of Love
Issue 212 • May/June 2002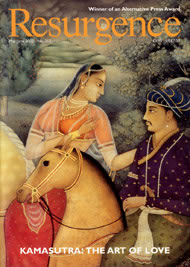 Buy a copy of this issue
Become a member and receive 6 issues a year
Contents
Key
Free for all to view
Free for members to view
Not available
Welcome
Ecology
The mutuality of wild intelligence.
Technology
Practicing self-restraint and accepting our own mortality.
September 11
A plan to combat terrorism.
THE END OF GLOBALIZATION • John Gray
A diverse world would be a safer world.
Education
Taking eco-literacy seriously.
Tourism
We need a new set of travel ethics.
Trade
From commodification to co-operation.
Moving things around the world.
Love
Intimate union represents cosmic union.
Photo Essay
A meeting with the Karmapa.
Agriculture
Successful city farming.
Frontline
A sanctuary in the concrete desert.
Regulars
Letters to the Editors
The Occasional Didymus

• John Moat
Perspectives
The Arts
Conceptual art endangers real talent.
Art is a way of life.
The spirit within clay
Reviews
Review of Soil and Soul
A NECESSARY SIMPLICITY • David Cadman
Review of Timeless Simplicity
FALLACY OF FRAGMENTATION • Satish Kumar
Review of Where Division Ends
Review of Trident on Trial
SPANISH SENSUALITY • John Lane
Review of Picasso Erotique
Review of The Cultural Creatives
Review of Just Capital
SUFFICIENT UNTO ITSELF • Peter Harper
Review of The New Autonomous House