Reverential Ecology
Issue
213

• July/August 2002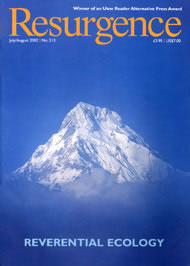 Buy a copy of this issue
Become a member and receive 6 issues a year
Contents
Key
Free for all to view
Free for members to view
Not available
Welcome
Feature Articles
A call to awaken our aesthetic responses.
Putting idealism on the corporate agenda.
It's time to build an eco-economy.
Design as if nature matters.
Technological solutions inspired by nature.
Corporate Responsibility - who is really picking up the tab?
Twenty-six words to save the planet.
Religion ignores the universal commons.
The world's largest poppodom provider is a cottage industry.
Bedzed realizes urban ecological living.
Frontline
Domestic fuel from sugar cane waste.
Desertification is not irreversible.
Relearning traditional tricks.
Organic food scores highest.
Regulars
The Arts
Ann Gillies' illuminating watercolours.
Archetypal images from Di Taylor's computer.
Shakti Maira integrates spirituality and art.
The magical work of Ynez Johnston.
Jewellery with a potter's influence.
Reviews
Review of Raw Creation and Ben Hartley
Review of At Home on the Earth
Review of Hubbert's Peak
Review of Education for Eco-Justice and Community
Review of Private Planet
Review of The Charged Border