The Power of Nature
Issue 215 • November/December 2002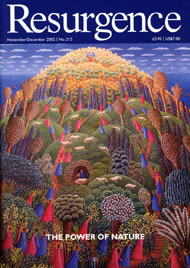 Buy a copy of this issue
Become a member and receive 6 issues a year
Contents
Key
Free for all to view
Free for members to view
Not available
Welcome
Feature Articles
The free-market economy is becoming the war economy.
If you think peace, you create peace.
The dehumanising war of the Middle East.
Alternatives to the 'suicide economy'.
Developments in sustainable energy.
The term 'sustainable development' has been hijacked.
Liberating the impoverished Earth.
Buddhism and reverential ecology.
Compassionate communication.
The power of philanthropy.
Islam's concerns about modernity are common to many of us.
Embracing darkness and all it illuminates.
On kumys and commodification.
Modern toys limit imagination.
The Arts
Margaret Neve's magical visions.
Anne Payton celebrates the crafts through her art.
A retrospective look at two recent art exhibitions.
Frontline
Regulars
Perspectives
Poetry
EARTH SONGS
The Occasional Didymus

• John Moat
Letters to the Editors
Reviews
Review of Heading for Home
Review of About Anarchism
Review of George Soros on Globalisation
FRIENDLY BANK MANAGER • Peter Lang
Review of Banking and Social Cohesion
Review of The Art of Looking Sideways
OF KIFF AND KLEE • John Lane
Review of Ken Kiff and Paul Klee Selected by Genius
WHOLE SOCIETY SOLUTION • Mary Tasker
Review of Sustainable Education
EXCHANGE OF EMPATHY • Kim Taplin
Review of Lodestones
RECLAIMING ROMANTICISM • Peter Abbs
Review of The German Tradition and The Song of the Earth
Review of Bunny
Review of Hydrogen Futures
IS OUR LAND THEIRS? • Colin Ward
Review of Who Owns Britain
Review of Simultaneous Policy
ENVIRONMENTAL REVOLUTION • Dan Bertolet
Review of Eco-economy
Review of The World is my Garden
Review of The Seat of the Soul
Review of One Taste
SEEING THROUGH DELUSION • Jordi Pigem
Review of A Buddhist History of the West