Patterns of Wholeness
Issue 216 • January/February 2003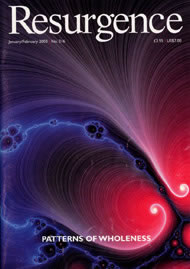 Buy a copy of this issue
Become a member and receive 6 issues a year
Contents
Key
Free for all to view
Free for members to view
Not available
Welcome
Feature Articles
GLOBAL VILLAGE OR GLOBAL PILLAGE? • Herbert Girardet
Where governments fail, civil society is rising to the challenge.
Why civil society withdrew from the W$$D.
Wars have cost us enough.
Introducing holistic science.
Meeting interrelated living beings.
All organisms are linked together coherently.
Qualitative analysis of animal behaviour.
Integrating science and experience.
FROM PHYSICS TO PARI • David Peat
A continuing search for answers.
SET THINE HOUSE IN ORDER • Colin Tudge
Our attitude toward the Universe should be one of reverence.
Transforming the system of academic assessment.
WHEN THEY ONCE MEET • Jem Poster
Reflections on humanity's uneasy coexistence with the natural world.
We should value and preserve wilderness on its own terms.
Food supply in a changing climate.
A realistic look at transport technology and environmental reality.
Discovering the delights of the Pishwanton Gridshell Crafts Building.
An ecofeminist critique of globalisation.
Learning to let our voices live.
Hymns to the spirit of apple trees.
The Arts
The photograms of Susannah Hays.
Embracing the primordial in sculpture.
Frontline
BACK TO BASICS
Architecture that makes sense.
MISSIONARY ZEAL
Combating food deserts.
Regulars
Letters to the Editors
A Sense of Place

• Sue Limb
Reviews
INTERPRETERS NOT CREATORS • Suzie Cotton
Review of Spirit and Place and New Organic Architecture
PLEASURES IN PRINT • John Lane
Review of The Floating World of Ukiyo-E.
A CONNOISSEUR'S PROSE • Suzi Gablik
Review of Epicurean Simplicity
Review of Dart
FROM DESECRATION TO SACRAMENT • Nancy Jack Todd
Review of The Nature of Design
Review of The Hydrogen Economy