A time to heal
Issue 219 • July/August 2003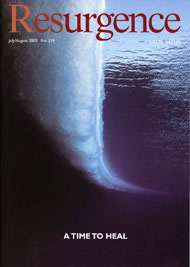 Buy a copy of this issue
Become a member and receive 6 issues a year
Contents
Key
Free for all to view
Free for members to view
Not available
Welcome
Feature Articles
In search of balance and harmony.
Immersed in the unity of organisms.
The story of one of the first veg-box schemes.
THE CASE FOR THE EARTH • David W. Orr
We need new strategies to preserve the habitability of the planet.
NO LAMPS IN THE WILDERNESS • Ian Player
How one thing leads to another.
The global economy is unrealistic, undesirable and impossible.
It is the bankers, not the politicians, who rule the world.
The desertification of delight.
The great motivating force of humanity.
Who should control the world's water?
What we need today is a 'water ethic'.
Small steps to sustainability.
What can nonviolence say to violence?
Photo Feature
The creativity of urban beachcombers.
The Arts
The art of Jane Siegle.
Natural shelters for the imagination.
Somerset basket-making documented by Kate Lynch.
Regulars
The Occasional Didymus

• John Moat
Letters to the Editors
Reviews
Review of The West and the Rest
ADVANCES IN AGROECOLOGY • Jules Pretty
Review of The Real Green Revolution and Agroecological Innovations
Review of Stormy Weather
Review of The Unfinished Twentieth Century
Review of The Buddha Speaks
Review of Faith in the Age of Uncertainty