Divine Earth
Issue 221 • November/December 2003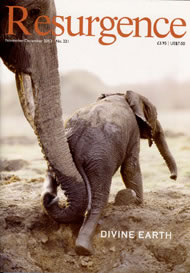 Buy a copy of this issue
Become a member and receive 6 issues a year
Contents
Key
Free for all to view
Free for members to view
Not available
Welcome
Feature Articles
A Christian perspective on nature.
BIG PICTURE - SMALL PLANET • Tony Juniper
The environmental movement must reassess its priorities.
In aboriginal languages there are no possessive pronouns.
POLITICS OF SUSTAINABILITY • Paul Hawken
The environmental movement should also be a human rights movement.
The psychological impediments to revolution.
ENLIGHTENED AGRICULTURE • Colin Tudge
In the US, more people are in jail than work full time on farms.
Small is not always beautiful.
ESTABLISHMENT REVOLUTIONARY • John Elkington
A tribute to Max Nicholson.
Stories are our inheritance.
Globalisation: privatising the benefits and socialising the costs.
Transforming attitudes to bread.
The Arts
The creative vision of Jonathan Froud.
Janis Ridley's sculptures exude energy.
The landscape photography of Charlie Waite.
Frontline
Restoring ancient woodland.
A flourishing urban forest.
A VOYAGE OF SUSTAINABILITY • James Wallace
The Midgard Expedition.
Regulars
Visionaries

- IVAN ILLICH • Harry Eyres
Perspectives
Letters to the Editors
Reviews
Review of Crossing the Unknown Sea
Review of Socially Engaged Spirituality
Review of Jainism and Ecology
Review of Not By Money Alone
Review of The Money Changers
DRUGS AND ENLIGHTENMENT • Paul Zeal
Review of Zig Zag Zen
A FOUNDATION FOR CHANGE • Chet Bowers
Review of Our Common Illiteracy
ASCENDING TO GO DEEPER • Jordi Pigem
Review of Life's Philosophy
Review of Losing Control