Ecoliteracy : Dancing Earth
Issue
226

• September/October 2004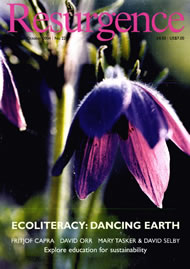 Buy a copy of this issue
Become a member and receive 6 issues a year
Contents
Key
Free for all to view
Free for members to view
Not available
Welcome
Feature Articles
An introduction to the ground-breaking work of the Center for Ecoliteracy.
Schooling and sharing the Okanagan way.
Uncovering sustainability solutions through school food.
Inspiring children to intimately experience the web of life.
The ecoliteracy network is growing around the world.
All education is environmental education.
Radical interconnectedness and its implications for sustainability education.
The role of adults is to be Enchanters, not Enforcers.
What can schools do to develop a new theory of knowledge?
There is no one way into the future.
Exploring the new frontiers of education.
The first principle of a new charter for children is to have schools which are caring communities and not knowledge factories
The International Honors Program, where experience is the best educator.
If you were Secretary of State for Education, what would you change?
A celebration of nature through landscape.
A life without colour is only half a life.
The Inspired Art Fair is bringing self-taught artists the recognition they deserve.
Regulars
Frontline
Bifrost: a new way of learning.
The Institute for Social Ecology offers an inspired interdisciplinary approach.
Bedales school continues to push the boundaries of educational orthodoxies.
Reviews
Review of Place-Based Education
Review of Walking on Water and Strangely Like War
Review of End of the Earth
Review of The Myths We Live By
Review of The Tree of Life
Web Exclusives
Developing children's sensibility to nature through arts-based environmental education.
Ecological design offers a gift of life, harmony and beauty to our children
Environmental action needs global support, but its seed is in individual action.
If business had to pay the full social and environmental cost of transport there would be less enthusiasm for transnational trade.