The Spiritual Imperative
Issue
229

• March/April 2005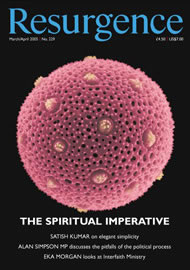 Buy a copy of this issue
Become a member and receive 6 issues a year
Contents
Key
Free for all to view
Free for members to view
Not available
Welcome
Feature Articles
Elegant simplicity is the way to discover spirituality.
Consumerism challenges the values of temperance and discipline, preached by all religions.
The responsibility of a state is to serve as the Trustee of the Commons.
Where government functions on the principle of human-scale.
It is important to do what is right without thinking about results, outcomes and achievements.
Nature is designed to help us stay sane.
Politicians are only as good as we let them be.
Three women working nonviolently in the face of oppression and conflict.
A look at the lives and work of creative recluses.
The art and textile collections of Henri Matisse.
An interview with Peter Randall-Page
We are like gardens, being born, growing up, giving birth to new life, getting old and finally disappearing.
Alice Oswald's elemental poetry is infused with a human touch.
The flourishing Interfaith Ministry.
Regulars
Frontline
Sustainable living.
A reverence for life.
Reviews
Review of The Call of the Desert
Review of The European Dream
Review of Colossus
Review of Bill Brandt: A Life
Review of Globalizing Resistance
Review of Wild Reckoning
Review of In the Belly of the Beast
Web Exclusives
Review of Sugar by Sanjida O'Connell
Review of A Human Response to Globalisation by Marc Desaules
Review of Desperately Seeking Paradise by Ziauddin Sardar
Review of OffScreen by Henry Hemming
Review of Nature's Operating Instructions by Kenny Ausubel with J.P. Harpignies
Review of Vital Practice by Sheila Ryan
Review of The Metamorphosis of Capitalism by Christopher Houghton Budd
Review of Positive Childhood by Mildred Masheder
Review of Small Change by Nabeel Hamdi
Review of Wild Geese by Mary Oliver
Review of The Lilypad List by Marian Van Eyk McCain
Review of Forever Today by Deborah Wearing
Review of An Alberta Bestiary by Zahava Hanen
Review of The Betrayal of Tradition by Harry Oldmeadow
Review of Art Nature Dialogues by John K. Grande
Review of The Lastling by Philip Gross
Review of Spiritual Capital by Danah Zohar and Ian Marshall