The Four Pillars of Sustainability
Issue
231

• July/August 2005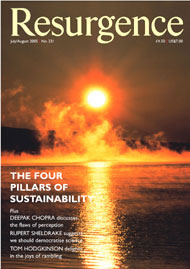 Buy a copy of this issue
Become a member and receive 6 issues a year
Contents
Key
Free for all to view
Free for members to view
Not available
Welcome
Feature Articles
To really understand the nature of reality, we must look through the eyes of the soul.
The union of science and spirituality reflects the transformation that is occurring in individuals.
The Dalai Lama and Albert Einstein: a tale of two remarkable men.
The key challenge for the future is to decide which is the best low-carbon energy source.
Germany is living proof that we can move from fossil fuels and nuclear power to clean, renewable energy.
Roofing materials that do nothing but keep the rain out are a shameful waste of space.
Energy abundance from the seas.
Local, constant and natural energy.
Bringing environment and development together.
Let the public decide on the fate of one per cent of our science budget.
A ride through the seasons of the Pacific Northwest.
Slow down, you move too fast?
The addition of a new item to the household should be matched by the removal of another.
Food and warmth, sweetness and light are the sun's gifts in the garden.
The Arts
The journeys, struggles and bucolic bliss encapsulated in Neil MacPherson's paintings.
Who is continuing Joseph Beuys's fascinating legacy?
For Footsbarn, all the world is a stage.
To please the eye and satisfy the mind.
Regulars
Reviews
Review of Hope Dies Last
Review of Nature Cure
Review of Green Alternatives to Globalisation
Review of Food Wars
Review of The Last Refuge
Review of Heaven on Earth
Review of s The Culture of Make Believe
Review of One World
Web Exclusives
In Part One of this article (Issue 231), we discussed how to access the 'eyes of the soul' in order to perceive the true reality of Consciousness. In Part Two, we explore these concepts at a deeper level and look at the qualities of the soul. we discussed how to access the 'eyes of the soul' in order to perceive the true reality of Consciousness. In Part Two we explore these concepts at a deeper level and look at the qualities of the soul
Review of Returning to the Essential by Jean Biès
Review of Celtic Angels by Donald McKinney
Review of The Earth Care Manual by Patrick Whitefield
Review of Bright Flowers by Christina Sumner and Guy Petherbridge
Review of A Good Life by Leo Hickman
Review of The Possibility of Progress by Mark Braund
Review of Voice of Death by Baidyanath Saraswati
Review of A Celebration of Cloth by Mary Fogg
Review of Who Wrote Bacon? by Richard Ramsbotham
Review of The Caesarean by Michel Odent
Review of The Power of Now by Eckhart Tolle
Review of Unarmed Heroes by Peace Direct