The Answer is still Peace
Issue
233

• November/December 2005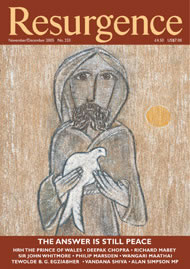 Buy a copy of this issue
Become a member and receive 6 issues a year
Contents
Key
Free for all to view
Free for members to view
Not available
Welcome
Feature Articles
Capitalism is a flawed economic order that is palpably failing humanity. Is it curable?
The terrorist attacks in London have once again created deep anguish in our collective soul.
There is a real urgency to adapt our accounting systems to the critical challenge of sustainability.
Why organic farming must replace industrial agriculture.
Deliverable plans for a sustainable Europe.
Enrique Peñalosa, former mayor of Bogotá, believes that cities of the 'Third of the World' can offer us lessons about urban quality of life.
No-take zones are proving a radical and successful way to rest and replenish the oceans.
Holistic development in Africa.
The Arts
A reflection on the tradition of landscape painting in Britain.
CELEBRATING ST FRANCIS AT CHRISTMAS
The revival of the Irish currach.
The poetry of cinema.
Regulars
Reviews
Web Exclusives
What women are doing to encourage a 'Culture of Peace'.
Introducing a revolutionary model of the development of consciousness and human value systems.
Review of Land and Environmental Art by Jeffrey Kastner
Review of Quiet Food by John Strydom
Review of Healthy Crops by Francis Chaboussou