The Answer is still Peace
Issue 233 • November/December 2005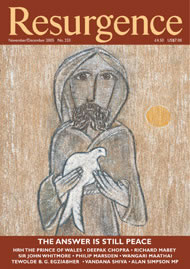 Buy a copy of this issue
Become a member and receive 6 issues a year
Contents
Key
Free for all to view
Free for members to view
Not available
Welcome
Feature Articles
Capitalism is a flawed economic order that is palpably failing humanity. Is it curable?
PEACE IS STILL THE ANSWER • Deepak Chopra
The terrorist attacks in London have once again created deep anguish in our collective soul.
There is a real urgency to adapt our accounting systems to the critical challenge of sustainability.
Why organic farming must replace industrial agriculture.
Deliverable plans for a sustainable Europe.
Enrique Peñalosa, former mayor of Bogotá, believes that cities of the 'Third of the World' can offer us lessons about urban quality of life.
No-take zones are proving a radical and successful way to rest and replenish the oceans.
Holistic development in Africa.
The Arts
THE LIE OF THE LANDSCAPE • Richard Mabey
A reflection on the tradition of landscape painting in Britain.
CELEBRATING ST FRANCIS AT CHRISTMAS • Greg Tricker
CELEBRATING ST FRANCIS AT CHRISTMAS
The revival of the Irish currach.
The poetry of cinema.
Regulars
Poetry

- JUDY GAHAGAN • Peter Abbs
Voice From The South

- CO-OPTED • Vandana Shiva
Small Steps

- CHRISTMAS UNWRAPPED • Ruth Rosselson
The Occasional Didymus

• John Moat
Letters to the Editors
Reviews
THE PARADIGM OF MODERNITY • John Gray
CALL THEM BY THEIR NAMES • Kim Taplin
WONDERFUL WEB OF LIFE • Angie Burke
Web Exclusives
What women are doing to encourage a 'Culture of Peace'.
Introducing a revolutionary model of the development of consciousness and human value systems.
Review of Land and Environmental Art by Jeffrey Kastner
Review

- RECIPES FOR SANITY • Daphne Lambert

Review of Quiet Food by John Strydom
Review

- WHY CHEMICALS HAVE FAILED • Chris Layton

Review of Healthy Crops by Francis Chaboussou