Reflecting on India
Issue 237 • July/August 2006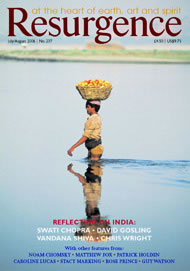 Buy a copy of this issue
Become a member and receive 6 issues a year
Contents
Key
Free for all to view
Free for members to view
Not available
Welcome
Compassion, not fear, should determine our actions.
Frontline
The Goldman Prize celebrates environmental heroes from across the globe.
Elephant-dung paper: a unique way to protect elephants.
Preserving corn biodiversity in Mexico.
On Watchtree Nature Reserve in the UK, new life is rising from the ashes of foot-and-mouth disease.
Ivory Park EcoCity village, on the outskirts of Johannesburg, South Africa.
Landscope is a new project at Dartington Hall, Devon, UK that aims to bring more people closer to the land.
Recycling 15,000 tyres to build autonomous dwellings.
The Ethical Property Foundation is helping small charities to find office space.
Current Affairs
In the footsteps of Martin Luther: bringing Christianity alive in the 21st century.
Evo Morales, Bolivia's president, was a grower of coca. Coca and cocaine are not the same thing.
The reluctance to address human population growth.
An interview with Patrick Holden, Director of the Soil Association.
The business model at Riverford Organics poses an interesting question: can big be beautiful as well?
Keynotes
It's time to celebrate the achievements of democracy.
The US and the UK perpetuate self-serving, hypocritical foreign policies which will continue to be rejected by the Muslim world.
India
The mainstream media dupe us into thinking that most global problems originate from so-called developing countries. Environmentally, India has been a world leader - at least at the political level.
The US-India Knowledge Initiative is promoting ignorance in the name of knowledge. The techniques of traditional Indian agriculture cannot be 'improved'.
Change cannot be imposed on India from outside. For development to be self-sustaining it has to be self-organised.
People like Tenzin Palmo act as bridges between the old and the new.
Culture
Seize The Day: the musical wing of the ecology movement.
The artist James Turrell creates wholeness out of perceptions, patterns, dreams and silence.
INTERPRETING THE WORLD • Clive Adams
How contemporary artists are developing new understandings of our connection and responsibilities to Nature.
An exhibition of the work of stone-carvers at Asthall Manor in Oxfordshire, UK.
The deeper meaning in Hans Christian Andersen's stories.
THE NATURAL VISION • John Lane
A tribute to John Constable, written to coincide with an exhibition at Tate Britain.
Regulars
Letters to the Editors
Poetry

- NIGEL McLOUGHLIN • Peter Abbs

An Ulster poet with a compelling lyrical voice.
Recipes

- A POOR PERFECTION • Rose Prince

Perfectly formed fruits and vegetables do not necessarily taste the best. Cauliflower remoulade and outer lettuce-leaf soup.

The special meaning of 'here'.

Helpful hints to reduce your car's ecological footprint.
Touchstone

- GO TO HEAVEN ON AN EGG • Colin Hodgetts

How not to market Christianity.

Goethe united art and science and created a holistic culture.
Reviews
Review of Black Market: Inside the Endangered Species Trade in Asia by Ben Davies
Review of The Collapse of Globalism by John Ralston Saul
Review of Earth Democracy by Vandana Shiva
Review of Plan B 2.0 by Lester R. Brown
Review of Making Terrorism History by Scilla Elworthy and Gabrielle Rifkind
Review of The Wild Braid by Stanley Kunitz
Review of The Revenge of Gaia by James Lovelock
Review of A Brief Guide to Islam by Paul Grieve
Review of Beyond Conservation by Peter Taylor
Review of The Party's Over by Richard Heinberg and Power Down by Richard Heinberg
Web Exclusives
Review

- A GANDHIAN INFLUENCE • Paul Salstrom

Review of Gandhi as Disciple and Mentor by Thomas Weber
Review

- FROM EMPIRE TO EARTH COMMUNITY • David Korten

Review of The Great Turning by David Korten
Review

- LIGHT AND SHADOW • Jordi Pigem

Review of The Integral Operating System by Ken Wilber