A Far Cry from Christmas
Issue
239

• November/December 2006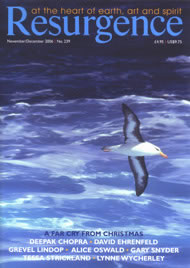 Buy a copy of this issue
Become a member and receive 6 issues a year
Contents
Key
Free for all to view
Free for members to view
Not available
Welcome
We have to replace our quantitative consumerism with a qualitative lifestyle.
Frontline
A small-scale village project in Mali combines environmental and human concerns by producing energy-efficient earthenware stoves.
The community buy-out of an organic farm in Shropshire, UK could point the way for others.
The Biodiversity Lifeskills Foundation is encouraging temples and communities in Sri Lanka to work together to safeguard traditional knowledge and natural species.
Monkeybiz works with South African women to promote bead art which funds an HIV clinic.
Keynotes
How artists and writers can join in the defence of the planet and wild Nature.
Poetry can transport us to new ways of experiencing life.
God won't leave us alone as long as we feel afraid.
Undercurrents
Most of those advocating the new energy technologies are not suggesting any reduction in overall energy consumption.
Fair trade should be creating the conditions in which craftworkers across the world can meet the needs of their own communities.
Moving from a remembrance service to a peace service.
Regulars
We need to bring the spirit of home into public places.
Global trade, plastic bags, banana profits, fuel use, carbon dioxide emissions, mobile phones.
Greek tragedy warns that Nemesis, goddess of retribution, stands in wait for excessive pride or hubris.
One small, thoughtless action can affect a whole ecosystem.
Men behaving badly require a governess.
A colourful spread to celebrate the winter solstice: tomato chutney, roast tamari carrots, corn cakes, marinaded broccoli, blueberry rice, beetroot salad, parsnip purée.
The Arts
Poems by Grevel Lindop, Lynne Wycherley, Alice Oswald and Charles Tomlinson.
The paddock looked like it had fallen victim to a monstrous mole. A short story.
The paintings of Michael Cullimore show that there is always one more way of looking at something.
Jacob Lane's granite and wood sculptures explore our relationship to an eternal source.
Reviews
Review of "Rajan, liberated from his enormous bulk, explored his own free spirit." From Elephant! by Steve Bloom.
Review of Bread Matters by Andrew Whitley
Review of The Great Turning by David Korten
Review of Bedrock (eds) Lauret E. Savoy, Eldridge M. Moores and Judith E. Moores
Review of England in Particular by Sue Clifford and Angela King
Review of Presence by Peter Senge, Joseph Jaworski, C. Otto Scharmer and Betty Sue Flowers
Review of Confessions of a Radical Traditionalist by John Michell
Review of Diary of an Eco-Builder by Will Anderson
Review of Hard Rain by Mark Edwards and Lloyd Timberlake, Manifesto for the Earth by Mikhail Gorbachev, Peace is the Way by Deepak Chopra, What I Heard About Iraq by Eliot Weinberger, Why Birds Sing by David Rothenberg
Web Exclusives
Moving beyond heritage conservation to embrace environmental concerns. (Editors' Selection)
Small family farms do more than just produce food. (Editors' Selection)
Review of Bhutan by David Macaulay
Review of The Fall by Steve Taylor
Review of The Night Life of Trees by Bhajju Shyam/Ram Singh Urveti/Druga Bai