Christmas Cradles
Donate Now
Issue 251

Nov/Dec 2008
Feasting & Fasting: Connecting the Plate and the Planet
Web Exclusives
Article
Christmas Cradles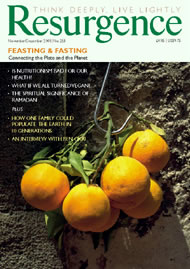 Cover: Oranges, Seville, Spain Photograph: Chris Caldicott/Axiom
Photograph: William Thomas
CHRISTMAS TIME PROVIDES a great opportunity to participate in some of the most traditional, seasonal and ecological shared feasting activities of the year. Forget about turkeys from America, or tangerines from Spain – it is the abundant use of dried fruit in the sweetmeats I am thinking of. These all hark back to a time when no imported fresh fruits were available in the winter and people got by on what had been dried during the year. Thus we have in Christmas pudding, Christmas cake and mince pies an abundance of dried grapes, plums, currants and cherries combined with the ubiquitous dairy, wheat and eggs. Nowadays this is supplemented with dried dates, figs and marzipan, again in keeping with the seasonal use of ingredients harvested earlier.
Let's look more closely at the much-loved English dainty, the mince pie. These originated in medieval times as miniature pies known as chewettes, which contained a mixture of liver or beef with chopped egg and ginger. On Fast days they might contain fish. According to The Oxford Companion to Food, by Alan Davidson, these little pies began to be sweetened and enriched with dried fruit from the 16th century. For the last 150 years, since Victorian times, they have been filled almost entirely with a mixture of spiced dried fruit, apple, nuts, brandy – and beef suet. This last ingredient betrays their meaty origins and is today often substituted with vegetarian suet made from palm oil (which can be ecologically grown by members of the sustainable palm oil production circle).
Recipes typically state that the minced fruit ('mincemeat'), once potted, can last up to a year, in which case it should not contain fats that will go rancid. If, however, the pies are going to be made and consumed promptly, margarine, butter or oil can be used (in smaller amounts) as a substitute for suet, and the minced fruit should be stored in the fridge.
Folklore has it that the pastry case of mince pies represents the cradle of Jesus. Mince pies have long been Christmas fare, with some accounts saying you will have good luck through eating as many as possible, and others maintaining that you should eat them only in the twelve days of Christmas, consuming one pie in each house every day to bring good luck for each of the twelve months of the new year. It is a more recent innovation to make large mince pies, which have to be sliced up and shared, and some people say that this is bad luck because you have to cut into the cradle of Jesus – which brings into question the ethics of biting into the individual ones!
Preparing your own minced fruit is extremely simple and satisfying – especially as you can do it a month or two before Christmas, keeping it well apart from the rush of buying and organising that has come to be associated with this winter festival. As you make the pies, enjoy the process, and do not forget to stir good tidings into the mixture as you add the brandy, just as you would when stirring a Christmas pudding.
Minced Fruit
Makes 3 lb
12 oz (350g) good, tart apples (Coxes, Russets, Bramleys, etc.) 1 orange (juice and grated zest) 1 lemon (juice and grated zest) 4½ oz (125g) vegetarian suet 6 oz (175g) raisins 4 oz (110g) sultanas 4 oz (110g) currants 4 oz (110g) chopped candied peel, or chopped dried apricots or figs 1 oz (25g) chopped crystallised ginger 1 oz (25g) thinly sliced almonds 4–6 oz (110–175g) muscovado sugar 1 tbsp honey or molasses 2 tsp mixed spice ½ tsp ground cinnamon ¼ tsp grated nutmeg 3 tbsp brandy
Peel and core the apples and chop into small pieces compatible in size with the raisins. (Using sharpish dessert apples rather than cookers will enable you to reduce sugar content if that is a concern.)
Mix together all the ingredients except the brandy in a large oven-proof bowl. Cover with a clean cloth and leave for twelve hours so that the dried fruit can soak up the fruit juices and become plumper.
Place the mixture, loosely covered with foil or a lid, in a cool oven (250 °F/130 °F/Gas Mark ½) for 2 hours. (If you double the quantity, leave in the oven for an hour longer.) Delia Smith says this process slowly melts the suet which then coats the rest of the ingredients and prevents fermentation taking place if too much juice seeps from the apples during storage.
Allow the minced fruit to cool, stir in the brandy and spoon into clean dry jars, up to the rim. Cover with waxed disks and cellophane circles, or with clean/sterilised screw-top lids.
Melt-in-your-mouth Shortcrust Pastry for Mince Pies
Makes 30 pies
1 lb 4 oz (550g) plain unbleached white flour* 12 oz (325g) butter 2 tsp ground cinnamon 2 tbsp sunflower oil 2–3 oz (50–75g) caster sugar, light muscovado sugar, or icing sugar (sifted) ½ tsp salt 1 egg yolk a little milk or water to bind
*try substituting 4 oz (110g) flour with ground almonds and a few drops of natural almond essence to give a delicious variation on extra special occasions!
Begin by cutting the butter into the combined flour, sugar, salt and spices (and ground almonds if used). Despite advice from many chefs, I usually let butter come to room temperature before using, as this makes it much easier to handle. Rub it into the flour, allowing air to come into the mix as the crumbs scatter from your fingertips. Continue until a breadcrumb-like consistency is obtained.
Combine the egg yolk, the oil and a little milk or water and stir into the flour/butter mix. Add sufficient milk/water to give a firmish but not too crackable dough. If too much water is added, the pastry will become too elastic and not as short. In warm weather you can usually get away with using less liquid to bind it.
The pastry can be flattened into thick slabs and chilled before use, wrapped in butter papers or greaseproof paper.
Notes on making up the mince pies
Oil the pattie pans with sunflower oil before you begin to fill them, not forgetting the top of the depressions.
Two sizes of cutter will be necessary: one for the top of the pies (smaller) and one for the bottom (bigger). Tumbler glasses of the correct size can be dipped in flour and used instead. Roll the pastry quite thinly (⅛˝/2–3mm), and be generous with the helping of minced fruit in each pie. Paint the underneath of the pastry top sparingly with milk so that top and bottom will glue together well. Give a final trim with cutters for neatness, if necessary. Prick a tiny hole in the top of each pie with a skewer to allow hot air to escape and prevent the lids from being forced up. This is not necessary if you prefer to have, say, a star of pastry on top that doesn't completely cover the filling.
Bake the mince pies in a moderate oven (350 °F/180 °C/Gas Mark 4) until golden brown (25–35 minutes). Gently lift one up to check that the bottom is done.
Cool a little before serving, or reheat as needed. Delicious served warm with a glass of mulled wine! •