Tagore and Dartington Exhibition
Donate Now
Issue 266

May/Jun 2011
Tagore - The Big Vision
Regulars
Members' Page
Tagore and Dartington Exhibition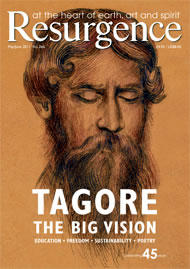 Cover: Image courtesy: British Museum © Artist's Estate/Bridgeman Art Library
Andy Christian admits that curating the work of a poet eight times as prolific as Milton was something of a challenge.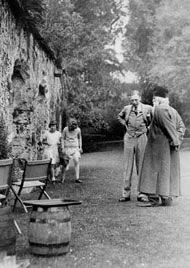 Photograph: courtesy Dartington Hall
In the preface to his book on Rabindranath Tagore, Edward Thompson noted: "Milton's English verse is less than 18,000 lines. Tagore's published verse and drama amounts to 150,000 lines or their equivalent". From then on I knew I was in for a challenge.
I have read quite widely, seen many of Tagore's paintings and drawings both in the UK and in India, and trawled the archives at Dartington. And as I have done so, something of this great Indian polymath has emerged. His relationship with Leonard Elmhirst is the clearest.
Leonard was inclined to treat Tagore as a great sage and often addressed him as 'Gurudev', though there is no suggestion that Tagore courted such a form of address. Dorothy was a generous benefactor and friend but chose to keep herself slightly apart from the close bond that Leonard and Tagore had developed.
Dorothy brought to Dartington her love of the arts, her deep social conscience and her devotion to Nature and free education. Leonard brought his determination to experiment with farming, rural industries and the science of the land. Tagore visited and encouraged them, and his own words and works were a continuing influence.
Tagore was a catalyst for Dartington, and he, Dorothy and Leonard would all three have been delighted that they continue to inspire imaginations and set dreams running to make the world a more equitable place. As I put together the fragments of this exhibition, it is clear to me that each of them continues to achieve that.
The Venue: Dartington Gallery, Dartington Hall, Totnes, Devon.
29 April – 28 June 2011 Open 10 am to 4 pm. Weekdays and weekends during the Tagore Festival.
The Exhibition will be shown later in the year at the Bhavan Centre, London.