A Visual Tale of Society, Politics and Prophecy
Donate Now
Issue 307

Mar/Apr 2018
A Song for Spring
Reviews
A Visual Tale of Society, Politics and Prophecy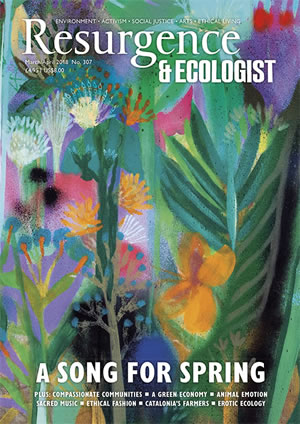 Cover: Emerald Love by Tiffany Lynch www.tiffanylynch.co.uk
PL Henderson is moved by the work of photographer Tish Murtha. Youth Unemployment by Tish Murtha. The Bluecoat Press, 2017. ISBN: 9781908457394
The late summer of 1991 was one of burning unrest in the West End of Newcastle upon Tyne, and the debris of looters, raging mobs and drug-fuelled "twockers" (car thieves) was the shocking subject of local and national news. At the time, the social documentary photographer Tish Murtha, whom I knew personally, said she'd seen it coming, having documented the landscape and its inhabitants for nearly two decades. As nights of turmoil continued and riot police paraded in dark columns down the hilly streets to the dull thud of truncheon on shield, she had, she said, closed out the world outside her small home with loud singing and piano playing. "As if in the band on the Titanic…" she laughed.

This ability to intimately convey the ravished anguish of an area drowning in poverty and joblessness, together with a sense of struggling humanity and even humour, reflected that she was part of it.

Youth Unemployment, a recently published book highlighting Murtha's work, captures an intriguing insight into the underbelly of late-20th-century British social and political history. The photographer, it reflects, was at the forefront of a generation of artists motivated to confront the socio-political issues of an age caught between 1970s ideals of inner-city renewal and 1980s Northern urban decay. Her photographic work of a community forced into decline is not simply a political statement, however. It is a human story of survival on the fringes of a world in neoliberal metamorphosis.

As Murtha's photography portrays a depth of socio-political awareness in addition to a sensitive humanity, so the book itself presents the photographer as both an uncompromising artist and a working-class woman and mother. Fittingly, the introduction is written by her daughter, Ella, who has dedicated her time to posthumously promoting the Tish Murtha Archive. The book is the result of a successful fundraising campaign Ella instigated and is described as both a fitting tribute and a coping exercise to deal with the sudden loss of her mother from a brain aneurysm in 2013. In turn, Ella's childhood anecdotes not only highlight the obvious loving intensity of a single child/single parent bond, but also give insights into the artist as 'mam', who painstaking interwove her photographic work with her role as primary carer, including sacrificing many sleeping hours for her creative processes.

The photographer's own essay and photographic work, however, are the key elements within the book, unlocking the connections between artist, themes and motivation. Murtha's words not only present a forceful summary on a generation lost to contrived hopelessness, but also carry within them a portrait of the artist herself, as intelligent, honest and passionate as the images she communicated. Her black and white photographs are beguiling, an intriguing narrative of human experience, of brothers, cousins, friends and neighbours, framed in tenderness, apathy or despair.

The sublime serenity captured in images such as 'Carl with bottles' or the exquisite composition of '13 Kenilworth Road' reveal the true extent of Murtha's talent. With personified titles like 'Johnny Collins with mother' the photographer not only betrays her own familiarity, but also acts as storyteller, inviting the viewer into the homes and lives of her subjects. While evoking the pathos of British writers and film-makers such as Ken Loach, Mike Leigh and Alan Bleasdale, this is no kitchen sink drama. Murtha's work is extraordinarily real.

Despite the bleak themes, to some extent the subtext of the book is one of hope. The photographer's main motivation, her daughter states, was not to simply record her community, but to "somehow bring about a change". Murtha's work had such an impact, in fact, that it was even the subject of a House of Commons debate in 1981 and opened the eyes of many to the ongoing boom-and-bust, North–South divide in both economy and lives.

The former wastelands are now green areas, and a new mosque minaret dominates the local architectural landscape. However, amid the shifting tides of welfare reform and a global capitalist economy, many of the social problems that Murtha highlighted persist. Her work, therefore, is still very relevant.