A Mosaic of Sacrifice
Donate Now
Issue 322

Sep/Oct 2020
Lessons for the Future
The Arts
A Mosaic of Sacrifice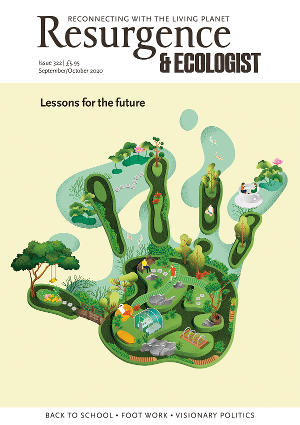 Cover: Illustration by Jing Zhang www.mazakii.com
PL Henderson interviews "extreme craftivist" Carrie Reichardt.
On a quiet West London street, in the leafy suburbs of Chiswick, the neat monotony of red-bricked private dwellings is shockingly interrupted by an anarchic eruption of colour. The sublime mosaicked house, known as 'The Treatment Rooms', is not only the home of artist Carrie Reichardt, but also her 20-year ongoing project and an artwork in itself. A much-visited curiosity, its aesthetically riotous walls launch a concoction of images, symbols, and social justice and resistance quotes out into the locale, an embodiment of the artist's own creative journey, politics and ethics. Reichardt simply states of her awe-inspiring creation, "Home is where the art is."

Despite being referred to as "a figurehead of Craftivism", Reichardt doesn't align herself with any particular movement. Her combining of artistic skills and activism originally prompted her to refer to herself as "an extreme craftivist", emphasising the radical nature of her often issue-based themes and delightfully caustic anarchist wit and expression. However, as she is an evolving creative practitioner presently leading collaborations on public commissions, her career may be viewed as having progressed under a variety of banners, including outsider, fine, street and community art. Consequently, it is better not to label Reichardt at all.

While viewing her creativity as "emotionally restorative", Reichardt states that her motivation is also to explore people's history by what she describes as "disrupting traditional narratives and offering different positive perspectives". She is particularly proud of her permanently displayed artworks that bring to life women's achievements. Her sculpture of socialist suffragist Mary Bamber, now in the Museum of Liverpool, is reflective of her celebration of rebels and radical history. A high for the artist was having her 'Tiki Love Truck', a two-ton mosaicked vehicle with a Polynesian-inspired design protesting the death penalty, installed at the V&A's Disobedient Objects exhibition in 2014. "I mean, it's the V&A – my mum's fave museum!" she laughs.

Reichardt's mosaic artwork 'Extinction', created as part of the Endangered 13 project (2016) in Tower Hamlets to highlight threatened animal species, is a good example of her ability to engage with both viewer and theme. Dominated by the extinction symbol, the work, which focuses on the plight of bees, is intersected with images and quotes uniting ecological alarms with revolutionary resistance to human greed and ignorance. Not only does Reichardt wear her heart on her sleeve, but she also reveals it with often brutal honesty in her creativity, describing her work as interwoven with her life. As a female artist left twice to bring up her children alone, she discloses: "All my art is significant to me because I sacrificed large parts of my life to do it."

Despite the recent lockdown, Reichardt's plans include working on a piece for the Single Parent Action Network, a radical group of working-class women living in poverty who fought for single-parent rights, one of the many grassroots projects that are integral to her inspiration and practice. She has also started a long-distance residency looking at innovative ways to work with the community while isolating at home. "Necessity is the mother of invention," she states with typical indomitable ingenuity. Carrie Reichardt is simply an extraordinary artist and activist working in extraordinary times, and we all are the beneficiaries.

For more information: www.carriereichardt.com