Right to a Way of Life
Issue 189 • July/August 1998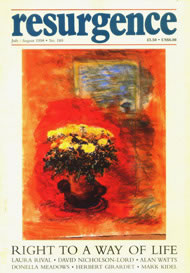 Buy a copy of this issue
Become a member and receive 6 issues a year
Contents
Key
Free for all to view
Free for members to view
Not available
Feature Articles
Any objective analysis of media reporting shows they are becoming more superficial and materialistic.
RIGHT TO A WAY OF LIFE • Laura Rival
For indigenous people, human rights means the right to carry on a certain way of living.
Cities of the future need to be Earth-friendly, energy-efficient andspiritually enchanting.
Even some wealthy people are appalled by the widening income gap.
Imagine if we could flood our cities and travel by boat as in Venice.
Development as we know it is another name for economic imperialism.
There is a perfect symbol to celebrate the millennium: it is the planting of yew trees.
Problems are not there to be eliminated but to be lived through.
The composting method of Pierre Rabhi leads to the replenishment of the land.
Tony Lane¹s paintings recover some of the lost power of images.
SCULPTURES OF SORROW • Chris Hall
The sculptures of Marianne Hall.
MYSTERIES OF EVERYDAY LIFE • Alan Watts
An appreciation of the thoughts of G.K. Chesterton who believed in spiritual worldliness and divinity of ordinary objects.
Regulars
Letters to the Editors
Poetry
Reviews
Review of Decorated Skin: A World Survey of Body Art
DEATH BY CONSUMPTION • Nick Robins
Review of Sharing The World, and Tomorrow¹s World
Review of Ecopolitics: the Environment in Poststructuralist Thought
Review of The Globalisation of Poverty: Impacts of IMF and World Bank Reforms
Review of Towards a Sustainable Economy, and To End Poverty
Review of Rachel Carson: Witness for Nature
QUESTIONING TOURISM • Greg Neale
Review of Rethinking Tourism and Ecotravel
Review of Last Standing Woman
Review of Gandhi and the Contemporary World
Review of Hermits: The Insights of Solitude
A MILLENNIUM CURRICULUM • Mary Tasker
Review of Education for Sustainability
Review of Valuing Nature: Economics, Ethics and Environment
Review of Designing Ecological Settlements
Review of Sacred Mountains: Ancient Wisdom and Modern Meaning