Wildlands Philanthropy
Issue 191 • November/December 1998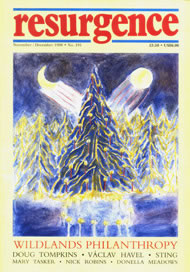 Buy a copy of this issue
Become a member and receive 6 issues a year
Contents
Key
Free for all to view
Free for members to view
Not available
Welcome
Feature Articles
There is a growing new passion among a small number of millionaires in the USA - to save wild nature
Saving Snowdon is a step in the right direction.
Monolithic and mammoth organisations are better suited to the tasks of destruction than to the work of imagination.
FROM CONSUMPTION TO SATISFACTION • Paul Ekins
The idea of consumption has gained a near-dictatorial power over the way societies are run.
Is there a relationship between growth in crime and growth in consumerism?
The rhetoric of development provides an invaluable camouflage for the exploiter.
Aid agencies use the desperate faces of children from poor countries to raise funds, ignoring the causes of poverty.
NONSANTO SPIRIT OF THE EARTH • Vaclav Havel
It is not enough to invent new machines and new institutions; we need the universal recovery of the human spirit.
MUSIC AND SILENCE • Sting
Music is probably the oldest religious rite. The first priests were probably musicians, the first prayers were probably songs.
A SCULPTOR OF SPIRIT • Peter Abbs
To understand the work of John Meirion Morris we have to see the artist as a spiritual agent.
Hayek, Popper and Polanyi and the riddle of globalisation.
Humanity, frugality, caring for the Earth and the interconnectedness of all things are the themes which underpin Kahlil Gibran's poetry.
Frontline
In the eighties ethical investors were largely disinvesting from unacceptable companies but in the nineties all that is changing.
JOY OF JUNK-SWAPPING • Judy Jones
The idea is admirably simple: clear out everything you don't want and let people take what they fancy.
Oberlin College is building an environmental studies centre which is an ecological statement in itself.
Regulars
Letters to the Editors
Reviews
Review of The Manic Sun: Weather Theories Confounded
Review of Genetic Engineering - Dream or Nightmare?
Review of Greening the North..A Post-Industrial Blueprint for Ecology and Equity
Review of False Dawn: The Delusions of Global Capitalism
Review of Waiting for the Barbarians
Review of What Everybody Really Wants to Know about Money and The Grip of Death: a study of modern money
Review of The Green Lanes of England
A DEEP SENSE OF PLACE • Roger Kelly
Review of An Architecture for People: The Complete Works of Hassan Fathy
Review of When Oracles Speak
Review of Writing the Environment: Ecocriticism and Literature
Review of Diggers and Dreamers: The Guide to Communal Living 98/99
THE FOURTH WISE MAN • John Lane
Review of The Greatest Gift: The Story of the Other Wise Man
Review of Women in Search of the Sacred FORESTS OF THE
Review of Ecoforestry: The Art and Science of Sustainable Forest Use
Review of Pulling The Plug