The Language of Animals
Issue 192 • January/February 1999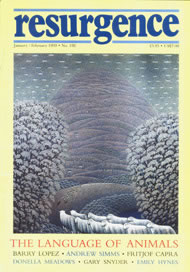 Buy a copy of this issue
Become a member and receive 6 issues a year
Contents
Key
Free for all to view
Free for members to view
Not available
Welcome
Feature Articles
THE LANGUAGE OF ANIMALS • Barry Lopez
Wild animals are lean. They have no burden of possessions, no need for extra clothing, eating utensils or elaborate dwellings.
THE FIFTIETH MILLENNIUM • Gary Snyder
A homo sapiens calendar starts at 40,000 years before the present, when art was produced for magic or beauty.
Speed is the foundation of the corporate-dominated global economy of quick returns and rapid growth.
The world is mesmerized by the myth of Progress. But beyond prosperity for the few, progress does not have a great deal going for it.
Economy
PLOTTING IN THE PRIESTHOOD • Andrew Simms
At the altar of the Multilateral Agreement on Investment, transnational corporations will worship and, perhaps, sacrifice.
MONEY AS A MEASURE • Peter Lang
Using money as the measure of all things leads to a distorted view of society and environment.
The local currency revolution means new kinds of money which are kinder to the planet.
The Arts
Craft: THE ULTIMATE POTTER • Edward Hughes
The great Japanese potter Hamada Shoji made pots to use and also to free himself from ego
Craft: POETRY OF NEEDLE AND THREAD • John Lane
Work in an office or a factory is seen to be the sign of progress in our time but for Cecilia Löfström embroidery of beauty holds value.
Science
Now even science claims silence to be golden and says that noise damages much more than hearing.
Scientists have a plan. It is to abolish the night.
Frontline
A new global culture is in the making. Its signs are eco-villages, co-housing and communal living.
Farming in Europe and North America is in crisis. The solution lies in community supported agriculture.
A village in Sri Lanka is showing a way of farming which is in harmony with nature and spirit.
A botanical sanctuary in India is working to restore the rainforest.
Regulars
The Occasional Didymus

• John Moat
Letters to the Editors
Reviews
Review of Master works of Asian Art, Dancing to the Flute: Music and Dance in Indian Art and Indian Court Painting 16th-19th century
Review of Consilience: The Unity of Knowledge
Review of Hidden Agendas
Review of The Estate We're In
Review of The End of the Yellow Brick Road
Review of The Cult of Impotence and MAI: The Multilateral Agreement on Investment
Review of Goodbye, Descartes
Review of Philosophical Melancholy and Delirium
Review of Eating with the Seasons
Review of The Element Book of Mystical Poetry